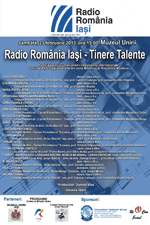 Young Talents Concert at Radio Romania Iași
Monday, 18 February 2013 , ora 9.07

Radio Romania Iași is thrilled to invite you to the Young Talents Concert performed by some of the students who have certified their training through national and international awards which were mostly obtained in 2012.
The concert takes place at The Union Museum, on Saturday 23rd February, 2013, at 13.00. Admission is free.
Here are some of the participants:
From Iași, Liviu Scripcaru, fourth grade, owner of the First Prize at the National Competition, performer at the Romanian Athenaeum and Enescu Festival Square concerts, participant in various other concerts (Classic 300, July 2012, joining stage with the Philharmonic Orchestra of Moldova), Ioana Chiriac, Iași, fifth grade, in 2012 she won the First Prize at Czerny Competition in Piatra Neamț.
Loredana Hreceniuc, eleventh grade, is the holder of the Golden Lyre and Elenescu trophies in 2012 and Ciprian Reuț, violinist in the tenth grade, who -besides his awards- boasts performances next the Philharmonic orchestras of Botoșani and Ploiești - they both come from Suceava.
Among the invited artists there are our guest from Chișinău, the accordionist Paul Efremov (he graduated from Ștefan Neaga High School), holder of the First Prize at the 2012 Elenescu Contest and the three violinists, students of the eminent professor Galina Buinovschi (principal of "Ciprian Porumbescu" Republican High School): Maria Postolache, third grade, Dan Iulian Druțac and Nicoleta Chetreanu, tenth grade, who bristle with international awards in Romania, Bulgaria, Czech Republic and appearances in concerts with orchestra.
This year we have only one performer from "Victor Brauner" High School in Piatra Neamț, the twelfth grader Cezar-Octavian Ionescu.
Among the pianists from Băncilă High School in Iași there will be present Daniel Ropotă (awarded a valuable third prize at Franz Liszt Contest in Hungary), Florin Mantale - First Prize, Special Jury Prize / Music Critics Award at "Romanian Miniature" in Galați and "Paul Constantinescu" in Ploiești and Alina Andriuțî, owner of some beautiful awards obtained in Italy and Russia and very recently awarded ​​in Poland.
Finally, we have a fourth grader who already possesses composition awards: Eva Maria Gârlea, from Iași. A flute duet, a viola quartet and the popular national violinist Mălina Ciobanu are to crown this event which we offer you as a preview of the 2013 spring!
We look forward to seeing you there!

Translated by Sorina Cimpoeru and Elena Daniela Radu
MTTLC, Bucharest University