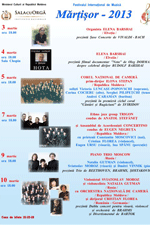 'Mărțișor' Festival in Chișinău
Tuesday, 26 February 2013 , ora 9.03

For almost half a century, the first cultural event which leads up to the spring holidays in Chișinău will include here performances in four places. Concerts will take place in other localities of the Republic of Moldova, besides those in Transnistria. The 2013 Mărțișor Festival starts on 28
th
February with
Rigoletto
, a great performance done by "Maria Bieșu" Ballet and Opera Theatre, under the baton of the Italian conductor Roberto Gianola.
Valeria Șeicanu, the director of the theatre, declared:
"There will be a real premiere: a team of 100 people in Tiraspol with Rigoletto which is, in fact, a preview, a trigger for this festival".
On 1st March, the official opening of this festival takes place at the National Palace "Nicolae Sulac" featuring the Teleradio Symphonic Orchestra of Moldova, the Folkloric National Ensemble of Romania "Transilvania" and the local musicians of folk and popular music.
On 3rd March, within a symphonic concert, Bucharest National Radio Orchestra performs in Chișinău. Moreover, the concerts will be held at the Organ Hall and at the National Philharmonic "Serghei Lunchevici", in Chișinău.
Svetlana Bivol, the Philharmonic's director, underlined the importance of the concert held on 7th March featuring the Youth Chamber Orchestra "Royal Camerata", under the high patronage of HRH Prince Radu of Romania.
"I'm pointing to the Royal Camerata, a renowned chamber orchestra consisting of the young who are to perform Enescu, Silvestri and Constantinescu along with the soloist Simina Croitoru and the pianist Raluca Ouatu."
At the National Palace, on 10th March, Mărțișor Festival closes with an anniversary concert of the "Fiddlers" Orchestra, conducted by Nicolae Botgros who stated: "Art, which is ours, is living art, it is still alive. I want to express my gratitude to the minister, to the director, because they had this good intention to plan this show, which is to crown the festival, having on stage the "Fiddlers" Orchestra and perhaps, by sheer coincidence taking place on my 60th birthday".

Translated by Sorina Cimpoeru and Elena Daniela Radu
MTTLC, Bucharest University