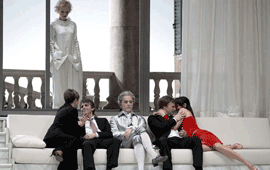 The Opera 'Cosi Fan Tutte' Directed by Michael Haneke on the Stage of the Teatro Real of Madrid
Thursday, 28 February 2013 , ora 9.11

The latest premiere (on 23
rd
February, 2013), on the stage of the Teatro Real of Madrid is the opera
Così Fan Tutte
by Mozart, directed by the German film director Michael Haneke, winner of the Oscar for Best Foreign Language Film with
Amour
a day later, on 24
th
February, at the great Los Angeles ceremony. It is worth mentioning that the film received five Academy Award nominations: Best Picture, Best Director, Best Actress in a Leading Role, Best Screenplay and Best Foreign Language Film. A month ago,
Amour
, with two great French artists in the leading roles - Jean-Louis Trintignant and Emmanuelle Riva - won the Golden Globe for Best Foreign Language Film.
This production of Così Fan Tutte represents Michael Haneke's second encounter with a lyric theatre score, after a highly successful Don Giovanni in Paris, 2007 - the story was transposed into modern days and took place in a modern office building, in La Défense, Paris. At a press conference, the 69-year-old maestro stated that, after the collaboration with the theatre in Madrid, he would not return to opera, as he wished to devote himself to cinema exclusively.
In Michael Haneke's vision for the Madrid version of the opera, commissioned during Gerard Mortier's directorship, the same scenes comprise both characters dressed in period costumes and characters wearing contemporary outfits and speaking on their mobile phones. The artist's conviction is that the attempt to replicate on stage a so-called historical reality is doomed to fail from the very beginning. 'We can't know for sure what a lyrical performance was like in the 18thcentury. We only have concrete information for the last seventy, eighty years. We have to take on the responsibility of bringing the scores into the modern times' - Haneke confessed in an interview.
For this production of Così,the Teatro Real of Madrid assembled an international cast, selected after dozens of auditions: the British baritone William Shimell/ Don Alfonso, the German soprano Anett Fritsh/ Dorabella, the Italian mezzo-soprano Paola Gardina/ Fiordiligi, the Swedish soprano Kerstin Avemo/ Despina, the German bass-baritone Andreas Wolf/ Guglielmo and the Argentinean tenor Joan Francisco Gatell/ Ferrando. The musical direction is signed by the French-born musician Sylvain Cambreling.
'With Mozart you're doomed to fail - Michael Haneke stated during a press conference. It seems that this Mozart score is the most difficult to stage. It has the worst libretto, but the most wonderful music!' And yet, Michael Haneke has been thinking of this project for many years and at first, he was supposed to direct it at the New York City Opera, but the financial collapse of the institution made the project impossible.
The Madrid sets are by Cristoph Kanter, the director's old collaborator in numerous films and the costumes are by Moidele Bickel, who worked with Haneke on The White Ribbon, the film also nominated for Oscar in 2009.
The performance is a co-production between the Teatro Real of Madrid and La Monnaie/De Munt in Brussels. Ten performances are scheduled by 17th March.

In his article…
… 'Opern-Weltpremiere von Così Fan Tutte in Madrid. Haneke zwischen wahrer und zerbrechlicher Liebe' (Haneke between the true and tender love), published by Wiener Zeitung in the 25th February, 2013 issue, Manuel Meyer writes:
'Rarely has a premiere at the Teatro Real of Madrid been awaited so eagerly…Two factors contributed to this: it was an absolute premiere on this stage and it was directed by a famous German filmmaker who received five nominations to the Oscars this year for his film Amour. On the black market, tickets to the premiere were sold at record prices. When the doors closed, scores of people were still hoping to get a seat… () … At the end, there were long rounds of applauses and ovations. The director who loves the music of Mozart so much has remained true to his approach to work that made him a trademark in the world of cinema and even in the world of the lyric theatre if we think about Don Giovanni in Paris: just like in the films, the characters acquire unexpected meanings due to a rich non-verbal language which says a lot to those who are willing to understand it. For example, the way Don Alfonso manipulates the feelings of the two young officers, Ferrando and Guglielmo. He practically sees them as dummies completely under his control, and himself as the puppeteer who gives them life and meaning by pulling their strings. 'The story is extremely important as it can be transposed into modern days and it's very interesting to see what message it can deliver to us today', explains Haneke. It seems that its message wants to show contemporaries how delicate, wild, fragile and cowardly love between two young people can be, now as in any other historical period. (…) The stage is entirely white. It depicts a villa in the 18th century furnished with big sofas, a fireplace and a bar with mirrored walls. Some characters are dressed in period costumes, others wear modern clothes. Despina uses an iPod and Don Alfonso smokes on a tall bar stool, while watching the argument of the two sisters. The director wanted to surprise, to amaze theaudience at eachmoment. Fiordiligi wears a provocative red dress, whereas Dorabella, with a modern short haircut, is dressed in a black trouser suit. The end of the opera, in the realist Haneke's vision, is not a happy one.'

In Le Figaro, the 25thFebruary, 2013 issue …
… Christian Merlin also writes about Le triomphe du Così Fan Tutte by Michael Haneke:
'Playing with the light, mixing the 18th century aesthetics with contemporary costumes and accessories, Michael Haneke created true tableaux vivants for the Mozart score. The maestro leads the audience within a space oscillating between the night shadows in the manipulation scenes and the shining light of day for the happy moments lived by the two pairs of lovers. Convinced that Mozart's opera compositions sentence a director to absolute failure, Michael Haneke awaited the premiere at the Teatro Real with emotion and doubts. In his vision, two historical periods meet and mix on the stage, just as in the scene of the reception guests wearing period costumes from the 18th century mix with those dressed in contemporary clothes and casually speaking on their mobile phones. (…) The director and filmmaker emphasizes the tragic character of Mozart's work, viewed as a merely frivolous farce for a long time. This production of Così, which so visibly bears Haneke's mark, was a real triumph. Through meticulous and thorough work, he managed to relieve the libretto of any common place which could spoil its effect, its message about love and fidelity. Because Così is no comedy, and Haneke manages to convey this with rare clarity. Clarity is also visible when it comes to the sets which depict a wonderful 18th century palace with archways and monumental staircases; however, using a contemporary perspective, its interior is transformed into a bourgeois, 'nouveaux riches' way, where characters with either wigs or modern haircuts are moving. We are told here a tragic story. Despina is no longer a waiting maid, but Don Alfonso's woman and, thus, there are not two, but three couples. Despina becomes the central character because she has already experienced everything that Dorabella and Fiordiligi are experiencing now; and the failure embitters and upsets her so much that…she refuses to sing. In the Madrid version, the part of Despina is interpreted in a masterly manner by the Swedish soprano Kerstin Avemo who makes good use of her acting qualities, mixing the image of a sad clown with that of a Pierrot lunaire. (…) However, we have reserves when it comes to the conductor Sylvain Cambreling who takes over a lot of the director's seriousness, but with a lack of flexibility the instrumentalists in the Symphony Orchestra of Madrid do nothing to mellow - a delicate moment for the harpsichord player who was late and arrived only after the first recitative had already started.'
Cristina Sârbu
Translated by Mihaela Olinescu and Elena Daniela Radu
MTTLC, Bucharest University