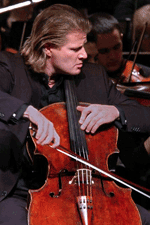 Cellist Fenyo Laszlo in a Great Concert at the Radio Hall
Monday, 11 March 2013 , ora 9.54

He was a soloist of the Frankfurt Radio Symphony Orchestra, he is invited by the most important musical groups in the world - the Singapore Symphony Orchestra, the Bonn Beethoven Orchester, Philharmonica Hungarica, the Shanghai Symphony Orchestra, the Lisbon Metropolitan Orchestra, etc. - and he was awarded several important international prizes. He is
Feny§ Lßszlo.
On Friday, 15th March, 2013, at 7.00 p.m. one of the greatest European cellists will be on the stage of the Radio Hall, alongside the National Radio Orchestra, playing the Cello Concerto in B minor, Op. 104, B. 191 by the famous Czech composer Antonin Dvo°ßk. Brahms used to say about Dvo°ßk's concerto that: 'If I had known such a concerto for cello could be written, I would have composed one myself long ago!'
Under the baton of the German conductor Gerd Schaller, who led several musical ensembles in Germany, the event proposes the Symphony in D Minor by CÚsar Franck, one of the late Romantics in the world's musical repertoire. This symphony will be played during the second part of the evening.
For more information about the 2012-2013 season of the Radio Orchestras and Choirs please access orchestre.srr.ro.

Translated by Irina Bor■oi and Elena Daniela Radu
MTTLC, Bucharest University