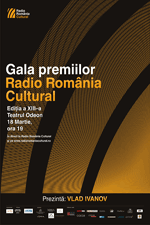 Șerban Foarță and Andrei Șerban to be Awarded Special Prizes at the Radio Romania Cultural Awards Gala
Monday, 11 March 2013 , ora 10.01

The Radio Romania Cultural Awards Gala
, a traditional and prestigious event, will have its 13
th
edition on Monday, 18
th
March, starting at 7.00 p.m. at the Odeon Theatre. The event will be full of elegance, sophistication and good taste, and it will be hosted by actor Vlad Ivanov.
The gala will be broadcast live by Radio Romania Cultural, TVR2 and online on www.radioromaniacultural.ro.
Awards will be given on eight different sections, which are meant to create a faithful image of the Romanian cultural world and of the most important achievements in 2012, in various cultural fields: fiction, poetry, theatre, film, music, fine art, science and education. The members of the jury are: writer and professor Titus Vîjeu, writer and translator Bogdan Ghiu, director Attila Vizauer, essayist and translator Valentin Protopopescu, publicist and writer Dorin Liviu Bîtfoi and musicologist Oltea Șerban-Pârâu.
Cristian Soleanu will play the saxophone, George Natsis the piano, Adrian Mircea Flautistu the double bass and bass guitar and Vlad Popescu the drums. Nadia Trohin will be the soloist of the event.
Five special awards will be given during the gala, and we already know the winners: writer Șerban Foarță will receive the Excellence Award, director Andrei Șerban will be given the Lux Mundi Award, tenor Bogdan Mihai the 'In memoriam Iosif Sava' Award, ArCuB - the Centre for Cultural Projects of the City Hall of the Municipality of Bucharest will receive the Award for 'Cultural Projects' and the Gaudeamus International Book & Education Fair will be given the 'Radio Romania 85' Award.
These are the nominees for the Radio Romania Cultural Awards Gala:
Poetry:
Marius Chivu, Vîntureasa de plastic, Brumar Publishing House
Bogdan-Alexandru Stănescu, Apoi, după bătălie, ne-am tras sufletul, Cartea Românească Publishing House
Dan Sociu, Poezii naive și sentimentale, Cartea Românească Publishing House
Fiction:
Dan Coman, Parohia, Cartea Românească Publishing House
Florina Ilis, Viețile paralele, Cartea Românească Publishing House
Veronica D. Niculescu, Roșu, roșu, catifea, Casa de pariuri literare Publishing House
Filip Florian, Toate bufnițele, Polirom Publishing House
Simona Sora, Hotel Universal, Polirom Publishing House
Film:
După dealuri (Beyond the Hills) by Cristian Mungiu
Toată lumea din familia noastră by Radu Jude
Visul lui Adalbert by Gabriel Achim
Despre oameni și melci by Tudor Giurgiu
Theatre:
Ion Caramitru, general manager of the I. L. Caragiale Bucharest National Theatre, for The Caragiale Year
Alexandru Dabija, the director of Doua loturi by I. L.Caragiale, at the Bucharest National Theatre and of Platonov by Tchekhov, at the 'Radu Stanca' Sibiu National Theatre
Ionel Mihăilescu, for the part of Arturo Ui, in Ascensiunea lui Arturo Ui poate fi oprită by Bertolt Brecht, at the Odeon Theatre in Bucharest
Iulia Popescu, for the part of Karolina, in Absint by Maga Fertacz, at the 'Sică Alexandrescu' Theatre in Brasov
Fine arts:
Dan Bota, painter
Aurel Bulacu, graphic designer, professor
Elena Surdu Stănescu, sculptress
Gheorghe Anghel, painter, PhD professor
Music:
Conductor Tiberiu Soare
Pianist Luiza Borac
TheArcadia Quartet
Education:
National Agency for Community Programmes in the Field of Education and Vocational Training - ANPCDEFP
Grigore Antipa Museum of Natural History
The Non-formal Education Laboratory, 2012 edition
Science:
PhD Physicist Nicolae Zamfir, manager of the Horia Hulubei National Institute of Physics and Nuclear Engineering, IFIN-HH
Matei Ciocârlie and Radu Rusu, USA, winners of the IEEE RAS Early Career Award in Robotics

Translated by Irina Borțoi and Elena Daniela Radu
MTTLC, Bucharest University