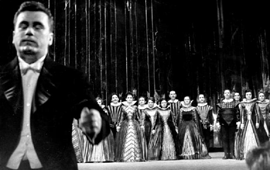 The National Chamber Choir 'Madrigal-Marin Constantin' - 50 Years of Artistic Activity
Thursday, 28 February 2013 , ora 10.03

On 27
th
February we celebrated 88 years since the birth of conductor
Marin Constantin
,
who founded the National Chamber Choir 'Madrigal' 50 years ago. Aside from the rehearsals and preparations for concerts and tours, the choir is involved in projects such as Cantus Mundi, an education and social integration programme developed by the Madrigal Choir Association at the initiative of conductor Ion Marin, so as to create a national network of chamber music groups. Conductor
Ion Marin
, honorary director of the Choir, spoke to us about the prospects of the Madrigal Choir, the Cantus Mundi project and the ensemble's musical activities:

What are your ensemble's prospects during this anniversary year?
The prospects are actually included in the anniversary itself, every prospect has a series of causes and perhaps when you count 50 years you would like others to count 100 and so on, although you won't be there any longer. We are just a moment in time, on the string of a tradition that pertains to the cultural life in Romania and the mission for the Madrigal Choir, as I see it, as far as I am concerned, and as far as the country is concerned, is related to ensuring that we can convey this tradition. And this is what I hope to accomplish through the Cantus Mundi project, which the Madrigal Choir launched with me in Romania a year ago. It is an education project that seeks to enrich people's cultural horizon, to integrate Romanian children from all backgrounds, be they privileged or underprivileged, minorities, disabled children, orphans etc., and children who study music to become professionals; this is a means of defining a child's capacity to behave in society, first of all, with those of his age, by doing something noble together, namely singing. It is not only a musical education project, it is a civil education project that enlarges people's horizons and enriches their hope. Certainly, during its development, connections will become tighter between children all over the country, thanks to this project and this noble idea. Similarly, only the best children in a class can participate in the Mathematical Olympiad, and it is fair to be so, but there is certain discrimination among the members of an even smaller community that is a class in any of the schools in Romania's counties. Music and singing together, have this social and unifying aspect of children's aims, it does not hinder them; you don't have to be the best in your class to sing in a choir. Certainly, singing with others may psychologically stimulate a better integration within the class, the family, the parish and the reality of the place where you live in, the city, the village, a small or large town and so on. But any way, I think it is essential that Romania has this project, offering this means of communication and socializing based on choral singing that the Madrigal Choir started a year ago.

How could choral ensembles participate in this project?
There is a strategy that we have, without claiming to know the absolute truth, and we learn, we learn how to teach others, so initiatives are very important. For instance, I think radio stations help us a lot where there is already an organized choir or where people want to start one, because it is important that people know that the Madrigal Choir helps them with these initiatives and it is easy to access it on the Internet; you can express this wish through an endorsement form which allows any school, any kindergarten, any orphanage or any institute for children with special needs to contact the Madrigal Choir and to express their wish to take part in this project, as well as to mention the things they need. We can help them obtain musical instruments or equipment; we can advise them how to get help from the local bodies, such as the town hall, the local education boards and so on. We try to help them in this way, as well, and I think this support is very important on a human level, not only on the artistic one.

What is the choir working on musically now?
The Madrigal keeps on enriching its repertoire, although the existing one is very large. Our group is much younger now and we can finally afford to reintroduce in their repertoire, works such as Ritual for the Thirst of the Earth by Myriam Marbé,Homage for the Children of the World by Sabin Păutza, or Flames and Wheels by Corneliu Cezar. We had a very interesting meeting with Adrian Iorgulescu about the URCM (the Union of Romanian Composers and Musicologists) initiative to make the vocal section more important, and it pleases us to see that new compositions are being written for the Madrigal Choir.

Veronica Maria Stoica, manager of the Madrigal Choir, spoke to us about the significance of the meeting between Ion Marin and the Madrigal Choir on 27th February and about the following concerts and tours of the group:
It is a very special moment for me, because on 27th February, 1925 there was born Marin Constantin, the intellectual and the founder of the Madrigal Choir, an extraordinary professor who taught thousands of students, and his being born gave us the chance to do those things we are proud of in life. I am happy we have had maestro Ion Marin with us on this day. It is another legacy he has left Romania, because such great talents are rarely born and then acknowledging them happens even more rarely. The Madrigal is proud to have Ion Marin as its honorary manager now, as he involves himself in creating our youth and our future, so that the Madrigal could continue what it has created so beautifully during the last 50 years. And this is not little: a wonderful, delicate, sensitive sound, a lot of emotion in its performances, a certain image of costumes, the stage and the positions on stage, as well as selecting universal and Romanian repertoires which have become a standard for all the choirs in Romania. We are proud to offer Romania valuable chorus singers and conductors.

How will you celebrate the anniversary? I know there is a Romanian tour, as well as one abroad.
It is the second tour we go on in the country, with 10 concerts. We had the pleasant surprise to be expected with great enthusiasm and attendance, but I like to make classifications, so I'll say that Iasi and Timisoara rank first, they are absolutely wonderful cultural centers, very aware of refinement. We will have our first concert at the Athenaeum on 21st April, it is an Easter concert which will also include moments of memories and history and the presentation of what the Madrigal has to carry on. Then, we have two concerts in Munich, one of which will be at the Bavarian Parliament, only with Romanian music, because this year we are focusing on acquiring a contemporary repertoire, as the one including madrigals and Romanian music was last year's priority. After that we sing at the Enescu Festival, where we have two great concerts and where we will sing a Renaissance mass, but I can't reveal anything about that, because I want it to be a great surprise, and then we will have a Christmas tour all around the country.
To conclude, I have chosen Nichita Stanescu's words: 'What is the Madrigal worth? A curtsy. What is Marin Constantin worth? A tribute.'

Translated by Irina Borțoi and Elena Daniela Radu
MTTLC, Bucharest University