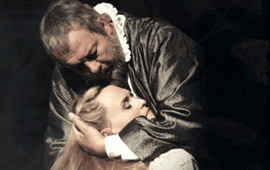 Verdi's 'Don Carlo' at the MET - a Heartrending Performance
Tuesday, 12 March 2013 , ora 7.50

The Verdi Year is celebrated all over the world, and the New York Metropolitan Opera, perhaps the most notable lyrical world stages today, could make no exception. On Saturday, 9
th
March, 2013, I saw a heartrending performance of
Don Carlo
at the MET. It was heartrending through the expressive power of singing and acting by famous opera singers:
Ramon Vargas
as Don Carlo,
Dmitry Hvorostovsky
as the Marquis de Posa,
Barbara Frittoli
as Elisabeth of Valois, and last but not least, one of the veterans of opera stages,
Ferruccio Furlanetto
as King Philip II of Spain. It is a quartet of true stars, and the performance also features excellent, if lesser known Russian mezzosoprano,
Anna Smirnova
as Princess Eboli.
Rarely have I seen such a unitary performance from the vocal point of view, with such comprehensive acting, grasping the very essence of Verdi's score. It was actually one of the most dramatic and passionate performances, with wonderful cantilenas, strength and energy - a score that maestro Lorin Maazel conducted beautifully, who was in great shape, considering he has just turned 83.
Verdi's Don Carlo came to the Metropolitan Opera's stage on its 206th performance - the series started in 1920, when this particular title was unknown in America. The current version, with great art direction, a dark, somber setting and a semi-obscurity that permeates all five acts, intensifying the emotional charge of the music, is directed by an Englishman, Nicholas Hytner, who debuted in 2010 in the States with this production.
Liliana Staicu - New York correspondence
Translated by Irina Borțoi and Elena Daniela Radu
MTTLC, Bucharest University