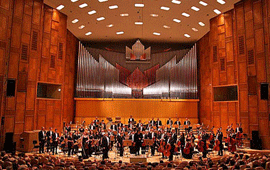 The National Radio Orchestra in Chișinău - Statements from the Press Conference
Tuesday, 26 February 2013 , ora 8.14

The press conference in the lounge of the Radio Hall (on 26
th
February, 2013), had the main purpose to promote a historic event for the National Radio Orchestra and for the cultural cooperation between Romania and Moldova. It is the first concert in the history of the well-known National Radio Orchestra in Chișinău. It will take place, at the National Palace in the Moldavian Capital on Sunday, 3
rd
March, aligning to other manifestations that mark the celebration of 85 years since the foundation of the Public Radio in Romania.
The musical evening will be conducted by the maestro Yuri Botnari, conductor and co-operator of the Moscow Philharmonic Orchestra, who for the first time conducted the National Radio Orchestra at the Radio Hall last autumn. Yuri Botnari was also present at the press conference together with Oltea Șerban-Pârâu, the artistic director of the Radio Orchestras and Choirs and talked with the press journalists both about his collaboration with the Broadcasting Orchestra and the programme that he will suggest in Chișinău on 3rd March.This brings together three famous works, that lay off an artistic bridge between the Romanian musical creation and the Russian one: Symphony no.5 by Tchaikovsky , Concert no. 2 in C minor for piano and orchestraby Rachmaninoff and Romanian Rhapsody no. 1 by George Enescu. A special presence will be the one of the Russian pianist Vladimir Ovcinicov, winner in the 1980s of the famous Tchaikovsky Competition in Moscow and the Leeds Piano Comepetition .
The concert with the National Radio Orchestra in Chișinău will be held within the 47th edition of the "Martisor" International Music Festival, organised by the Ministry of Culture in Chișinău every year, a tradition international event with important artists from Europe and Asia. This concert can be listened to live by the listeners of Radio Romania Music on Sunday, at 18:00 .

Translated by Andreea Mesescu and Elena Daniela Radu
MTTLC, Bucharest University