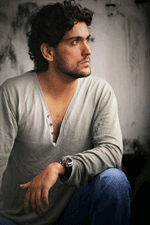 A Phenomenon Voice: Cezar Ouatu, Romania's Representative at Eurovision; a Special Guest at the Radio Hall
Wednesday, 13 March 2013 , ora 7.56

Are you familiar with the story of Farinelli, the Italian countertenor, from the 18th century, a period when men, who were performing just like women, were worshiped on stage? A beautiful countertenor voice: a musician who can perform high musical notes in a mezzo
-
soprana way
-
he is a natural phenomenon.
Guest on a special evening on the stage of the Radio Hall, the countertenor Cezar Ouatu- chosen after the national selection held on 9th March, 2013, to represent Romania at the Eurovision Song Contest - suggests an amazing virtuosity demonstration.
On Wednesday, 20th March, at 19:00, the gifted vocal soloist will perform together with the Radio Chamber Orchestra, the most beautiful baroque arias by the well-known composer Georg Friedrich Händel. Cezar Ouatu is not only the winner of the national selection for the Eurovision Song Contest, but prior to this, an artist with an amzing career, from the first lessons influenced by his musical family (in Ploiești), carried on with his studies with the highest grades at the famous "Giuseppe Verdi" Conservatory, in Milan. The countertenor won various international prizes at different contests such as: the Best Countertenor at the Francisco Viñas International Singing Contest in Barcelona, the Absolute Winner at the Competizione dell'Opera in Dresden, the Special Jury Prize at the Riccardo Zandonai International Competition for Young Opera Singers in Riva del Garda; the Baroque Award at the Renata Tebaldi International Voice Competition in the Republic of San Marino, the Spiros Argiris - City of Sarzana Award, at the International Competition for Young Opera Singers in Sarzana, Italy, and the Award of Excellence at the Hariclea Darclée International Festival and Voice Competition in Brăila. His international musical career offered him the chance to sing on the main opera stages in Europe, being requested to perform alongside important names of the international stage due to his amazing voice. His next projects for the 2013-2014 season include roles and concerts both in Europe and in the USA, a concert in Moscow with the soprano Angela Gheorghiu and the world premiere of the recording of the opera La Clemeza di Tito by Gluck, that will be released by Sony Classics.
During this evening's programme, you will discover arias and overtures by Händel, namely, Giulio Cesare, Flavio, Rinaldo, Alcina, Ariodante and Partenope. The concert will be under the baton of the young conductor, Gabriel Bebeșelea, appointed principal conductor of the Romanian National Opera in Iași, in 2011, the youngest Romanian musician, who has occupied a similar position so far.

For further information regarding the 2012-2013 season of the Radio Orchestras and Choirs, please refer to the website: orchestre.srr.ro.

Translated by Andreea Mesescu and Elena Daniela Radu
MTTLC, Bucharest University