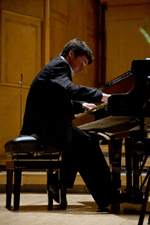 The Young Pianist Szocs Botond's Recital at the Romanian Athenaeum
Monday, 11 March 2013 , ora 10.34

The young pianist
Szocs Botond
, a student of the distinguished Professor Stela Drăgulin, is a wonderful interpreter. I had the chance to listen to his performance in the Small Hall of the Romanian Athenaeum on Sunday, 10
th
March, 2013, in a recital consisting mainly of romantic works, extremely demanding, both physically and emotionally. 'How can so much music be contained in such a little man?' 'A second Richter…' - I heard a few admirers exclaiming backstage, at the end of the recital, obviously amazed at the force proven by the 16-year old pianist, in interpreting works by Beethoven, Schumann, Rachmaninoff or Liszt.
In fact, the first two things that moved me were his dedication and his temperament. He stepped confidently on the stage, with a calm smile, he sat in front of the piano and he let himself go. I wouldn't know where to start…his care to render accurately every musical phrase, his round, full sound, or the amazing versatility proven! All these were brilliantly embodied by the young pianist in his recital on Sunday evening. But, above all, I'd like to emphasize his incredible sensitivity, matched only by his enthusiasm.
In the end, here are some questions kindly answered by Professor Stela Drăgulin:

What are his qualities and how do you think they will contribute to his presence on the international musical stage?
First of all, his sound has a quality that we develop day by day and that is something that sets him apart from his colleagues in the same generation. Then, his capacity to interpret several styles - this is, again, something special and, last but not least, his passion to play any kind of music very well and very deeply.

What are the next concerts that your student will give?
He is studying for his recitals and for his solo repertoire in parallel. Now he has already studied for two concerts - one by Mozart and the other by Beethoven - and he will play with the symphony orchestras in Brăila, Sibiu, Râmnicu Vâlcea and Satu Mare during the following weeks.
Petra Gherasim
Translated by Mihaela Olinescu and Elena Daniela Radu
MTTLC, Bucharest University