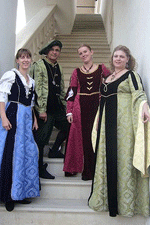 Tuesday Night Season - 12th March, 2013
Wednesday, 13 March 2013 , ora 8.10

The series of concerts reunited under the
Tuesday Night Season
title continued on 12
th
March with the early music recital by the
Flaoto Dolce Ensemble
. For the first time on the stage of the Small Hall, at the Romanian Athenaeum, we listened to
Zoltan Majo
and
Maria Szabo
(flute),
Noemi Miklos
(spinetta) and
Mihaela Maxim
(soprano).
The ensemble from Cluj, which specializes in authentic performances of Baroque and Renaissance music from Transylvania and Europe, using early instruments, offered us a sensitively and carefully-played varied repertoire that ended with several stylistic versions of 'Happy Birthday': from the Gregorian mode to the Baroque, from classical to contemporary and jazz versions.
Zoltan Majo - the leader of the ensemble - spoke to us about their first invitation at the Small Hall and about the programme they presented:
'We played in the Small Hall of the Athenaeum for the first time. The hall has excellent acoustics for this type of music. We felt good and we are honoured to have played for the Bucharest audience. We rely on a large family of instruments that would be called straight flutes, but the Italians call them flaoto dolce - hence the name of our ensemble. Today you have listened to the whole range of straight flutes, from the smallest - soprano, to the largest - bass. We also use a harpsichord and a spinetta - when they are required. Excellent soprano Mihaela Maxim helps us, too. We have used many percussion instruments that give colour to early music, especially the dances from the manuscripts. Tonight we played both Western early music and Romanian one, the famous Codice Caioni, the Manuscript of Sfantu Gheorghe and other Manuscripts from Transylvania, Moldova and Wallachia. We also played a 21st century composition by Felicia Donceanu - it is called Un trifoi (A Clover) and it was written specially for our group.'
The Flaoto Dolce ensemble has been active since 2000, when Zoltan Majo founded it, and since then it has presented over 200 performances in Romania and abroad, in Germany, Switzerland, Spain, Slovakia or Italy. Thanks to their much appreciated performances in concerts and festivals, the ensemble from Cluj, consisting of flute players Zoltan Majo and Maria Szabo, harpsichord player Noemi Miklos and soprano Mihaela Maxim, gathers an audience that loves early music played on old instruments. On the evening of 12th March, the above musicians offered us a complete image of authenticity of instruments and performances of early music, from the 17th and 18th centuries.
Jeanine Costache
Translated by Irina Borțoi and Elena Daniela Radu
MTTLC, Bucharest University