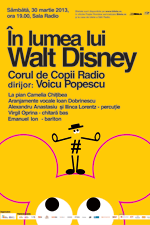 Radio Children's Choir and Walt Disney's World
Monday, 25 March 2013 , ora 8.41

Childhood means cartoons for all of us and, among these, the timeless stories brought to life by Walt Disney have a special place. The last concert in March at the Radio Hall will be entitled
In Walt Disney's World
and it will be dedicated to our younger audience: the Radio Children's Choir, conducted by Voicu Popescu, invites you to a journey in the magic world of songs from the original score of animated movies created by the famous American cartoonist.
On Saturday, 30th March, at 7.00 p.m., "children" of all ages will listen to the Children's Choir sing these beloved songs, alongside Camelia Chițibea - piano, Alexandru Anastasiu and Ilinca Lorentz - percussion, Virgil Oprina - bass guitar and Emanuel Ion - baritone.
The vocal arrangements are signed by Ioan Dobrinescu.
For more information about the 2012-2013 season of the Radio Orchestras and Choirs please refer to: orchestreradio.ro or orchestreradio.com.

Translated by Irina Borțoi and Elena Daniela Radu
MTTLC, Bucharest University