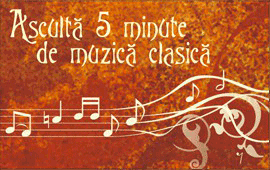 The End of the Sixth Edition of the Project 'Listen to Five Minutes of Classical Music'
Monday, 1 April 2013 , ora 10.49

On Sunday, 31st March, 2013, the sixth edition of the project 'Listen to Five Minutes of Classical Music' came to an end. During the whole of March, pupils, shoppers, visitors, partners of the project organized by Radio Romania Music had the chance to listen, for a few moments, works by composers such as Johann Sebastian Bach, Antonio Vivaldi, Giuseppe Verdi, Antonín Dvoűák or Johan Strauss; here are a few reactions of the listeners in a commercial mall:
'It's relaxing, it's wonderful, it's special. Five minutes is never enough.'
'It's the right thing; it captures your senses and it makes you dream. You need more of that, because it can't work its magic in just five minutes.'
'I think it's all right, as we hardly listen to music any more. It's a good beginning, I believe.'
'It relaxes us, we have to get used to classical music.'
'It creates peace, intellectual comfort, and a general sense of well-being. The project is good. What you need for classical music is a little time, to let it sink in.'
'Positive, relaxing, it ennobles you, it makes you better.'
We can thus conclude that the sixth edition of the project Listen to Five Minutes of Classical Music was successful, those present being delighted to hear these sonorities in other public spaces than the concert hall.
Lucian Haralambie
Translated by Mihaela Olinescu and Elena Daniela Radu
MTTLC, Bucharest University