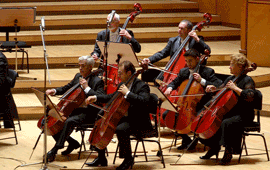 Rossini, Mozart and Haydn - A Successful Musical 'Trio' under the Baton of the German Conductor Cristoph Adt
Wednesday, 20 March 2013 , ora 10.54

From Hanover to Tokyo and from Prague to Bucharest, the career of the German conductor Cristoph Adt is quite widespread, the musician's presence being familiar to the audience in the concert studio Mihail Jora, as his collaboration with the two Radio orchestras goes back to 1994.
On Wednesday, 27th March, 2013, at 19:00, Cristoph Adt will be conducting the Radio Chamber Orchestra, in a concert comprising three works signed by some of the greatest composers in the musical patrimony: Rossini, Mozart and Haydn. The evening will open with the famous overture of the opera La Cenerentola, a score of great virtuosity, which creates an atmosphere of joy and merriment, like almost all of the great Rossini's scores. Music lovers will then enjoy the encounter with Mozart by means of The Piano Concerto No. 23 in A Major for Piano and Orchestra and Haydn, through Symphony No. 101 in D Major - The Clock.
The concert on 27th March will also bring the opportunity to listen again to the pianist Dana Borșan - concert soloist for the Radio Orchestras and Choirs, with more than 900 concerts and recitals on important stages in Romania and abroad.
For additional information related to the season 2012-2013 of the Radio Orchestras and Choirs please refer to: orchestreradio.ro or orchestreradio.com.
The tickets are available on www.bilete.ro, at the post offices with the inscription Bilete.ro and at the ticket office of the Radio Hall.

Translated by Mihaela Olinescu and Elena Daniela Radu
MTTLC, Bucharest University