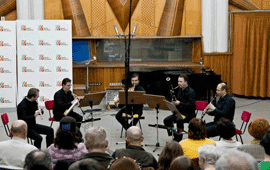 Recital Given by the Five Quintet and Accord Vibes at the Radio Hall
Wednesday, 27 March 2013 , ora 11.03

Because spring is a time for novelties, the month of April starts at the Radio Hall with a recital that proposes an original combination of classical and modern composers and instruments to the music lovers of all ages, enjoying both traditional musical genres and contemporary sonorities. On Wednesday, 3rd April, 2013, at 19:00, your hosts at a musical tea will be the Five Quintet - bringing together soloists - instrumentalists of the National Radio Orchestra and winners of prestigious prizes in domestic and foreign competitions and Accord Vibes - a jazz trio which is unique in Romania due to the unusual combination of three special instruments: vibraphone (percussion instrument similar to the xylophone), accordion and double bass.
The musical tea we invite you to will carry you to the world full of passion of the most beautiful works signed by the famous composer of tangos Astor Piazzolla and among the coffee-flavoured waltzes on
Champs Elysées, created by the great French accordionist Richard Galliano. Besides Piazzolla and Galliano, the Five Quintet - Grațian Papară (flute), Valentin Ghiță (oboe), Adrian Duminică (clarinet), Ionuț Roșca (bassoon) and Vlad Buzdugan (horn) - will interpret scores from classical Haydn to Farkas Ferenc and Malcolm Arnold, and the group Accord Vibes - Alexandru Anastasiu (vibraphone), Fernando Mihalache (accordion) and Michael Acker (double bass) - will bring to you a work of the Italian accordionist Tony Murena.
For additional information related to the season 2012-2013 of the Radio Orchestras and Choirs please refer to: orchestreradio.ro or orchestreradio.com.

Translated by Mihaela Olinescu and Elena Daniela Radu
MTTLC, Bucharest University