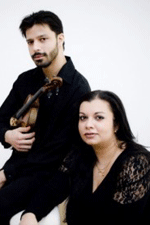 Răzvan Stoica - the New Star of the Romanian Violin Players
Tuesday, 19 March 2013 , ora 8.56

Radio Romania Music has scheduled the broadcast of the studio recordings of the violinist Răzvan Stoica, on Friday 22nd March, at 13:20, programme which will represent Romania at the most important competition for musicians between18 and 28 years old, the "New Talent" competition in Bratislava, which is organised by the The European Broadcasting Union.
Răzvan Stoica was Radio Romania Music's choice to represent Romania at this prestigious competition, where only one prize is awarded every year. During the first round of the competition, the candidates will be selected on the basis of the recordings, this being the reason why the violinist Răzvan Stoica made his at the Radio Romania Music studios; he intends to perform it in the preliminaries with his sister, the pianist Andreea Stoica.
The exceptional quality of these recordings, artistically and technically, enables us to say that a new star of the Romanian violin has been born, a claim that can be proven true if you listen to the recordings that will be broadcast for the first time on Friday, 22nd March, starting at 13:20, during the programme Performers - today and yesterday, presented by Simona Dumitru.
The violinist Răzvan Stoica and the pianist Andreea Stoica recorded four pieces: "Tzigane" by Maurice Ravel, "Introduction et Tarantella" by Pablo Sarasate, "Ballad" by Ciprian Porumbescu and "Fratres" by Arvo Pärt.
During the same programme, samples consisting of concert pieces from the violinist's CD, edited abroad, will also be broadcast.
Răzvan Stoica, 26 years old, studied at the 'George Enescu' High school in Bucharest and at the Conservatorium van Amsterdam, in the class of the well-known professor, Ilya Grubert. The violinist has almost thirty national and international prizes to his honours list. In 2009, Răzvan Stoica performed on a Stradivarius violin made in 1729, which he won at a competition in Salzburg against 170 other contestants.
As a matter of fact, the recordings that will be broadcast on Friday, 22nd March were performed on the same precious instrument.
The team members responsible with the creation of these recordings are: Mihai Stănescu - copy editor, Viorel Ioachimescu - music director, Octavian Reu - recordist.

Translated by Roxana Țicămucă and Elena Daniela Radu
MTTLC, Bucharest University