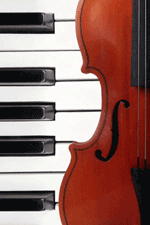 Tuesday Evening Season - 19th March 2013
Wednesday, 20 March 2013 , ora 8.07

An enthusiastic and numerous audience for two talented musicians, students at the "Gheorghe Dima" Music Academy in Cluj-Napoca, this is the best and brief description we could offer you regarding the chamber recital performed by the violinist
Radu Dunca
and the pianist
Mihail Diaconescu
within the
Tuesday Evening Season
.
On Tuesday, 19th March, at the Small Hall of the Romanian Athenaeum, we listened to two musicians who proved their moderation, instrumental virtuosity and expresivity, in a programme that included works by Ludwig van Beethoven, Johannes Brahms, Pablo de Sarasate and Cesar Franck.
Radu Dunca will celebrate his 23rd anniversary on 3rd July. He is a young violinist, who participated in numerous master classes in the country and abroad, in this way being able to boast with an important record. Member of the Romanian Youth Orchestra, with a rich soloistic activity, Radu Dunca was touched by the warm welcome from the audience and said:
"We thought of bringing a chamber recital here, at the Small Hall of the Romanian Athenaeum. Then, we thought of Beethoven - No. 1 Sonata, I could say it is an initiation sonata, and of Cesar Franck's Sonata - one of the best known pieces ; Carmen Fantasy and Scherzo by Bramhs were the little details. It was amazing, the applauses were overwhelming, the audience was very close to us…It was a pleasure and an honour to perform in that hall. "
We have seen a recital that was full of youth, enthusiasm and communication between the two musicians, the pianist Mihail Diaconescu offering to the audience a solo opus - Scherzo in E flat minor by Johannes Brahms. With a high record at the national and international contests, Mihail Diaconescu is under the guidance of the maestro Walter Krafft. He proved his pianistic art through a tenderer repertoire:
"We have been palnning for a while to perform works by Cesar Franck, because his work is one of the great chamber masterpieces…it is very difficult and complex. With Beethoven's Sonata we have balanced the programme - it is a very good piece for the beginning, bright and as to the 'fillings '…everyone chose what they wanted and we thought it was a great idea that the pieces were from different worlds:
"Brahms who is tyrannized in comparison to Sarasate" - a great virtuoso of the violin. I felt extraordinary near my colleague and friend Radu. The hall was crowded and the atmosphere was very positive. "
A complex, colourful programme performed with sensibility, virtuosity and with a careful musical preparation, and the reward was equal with the programme, the audience giving all their warmth and clapping many times so the artists would give them another encore .
Jeanine Costache
Translated by Andreea Mesescu and Elena Daniela Radu
MTTLC, Bucharest University