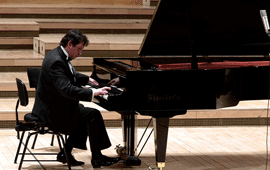 Beethoven with Horia Mihail and the National Radio Orchestra under the Guidance of the Conductor Jin Wang
Friday, 12 April 2013 , ora 9.03

One day before leaving Bucharest on the
Travelling Piano Tour
in Moldavia and Dobrudja for the last part of its journey, the pianist
Horia Mihail
, together with the National Radio Orchestra, will meet again with their audience in Bucharest on Friday, 19
th
April (at 19:00). The concert at the Radio Hall will be conducted by Jin Wang. Winner of nine European competitions of this kind, such as "Prague Spring" (Czech), "Malko" (Copenhaga, Denmark) and "Toscanini" (Parma, Italy), Jin Wang has collaborated with more than 90 orchestras, such as the Swedish National Radio Orchestra, the Philharmonic in Helsinki, the Radio Symphonic Orchestra in Berlin and the Royal Philharmonic in Liverpool.
The programme of the evening will begin with the Symphony No. 35 in D major-Haffnerby Mozart, whose name was given by a prolific family from Salzburg, who ordered this work to the great musician, with the occasion of the ennoblement of one of its members. The work had its premiere at the famous Burgtheaterin Vienna in 1783, having a big success. In the same town of music at Theater an der Wien in 1808, there was the public premiere of the second score performed by the National Radio Orchestra with the pianist Horia Mihail: The Concert No. 4 forthe Piano and Orchestra in G Majorby Beethoven. The composer himself performed the score for the piano at the premiere, a work considered by a critic in Allgemeine Musikalische Zeitung as the most admirable and complex concert by Beethoven. The evening will end with two compositions by Richard Strauss: Metamorphosis -a work which is said to lament the crash of Germany in the Second World War and Don Juan, the musical poem created around the famous myth of the charming character.
line-height: 150%;">

For further information regarding the 2012-2013 season of the Radio Orchestras and Choirs, please refer to the website: orchestreradio.ro or orchestreradio.com.

Translated by Andreea Mesescu and Elena Daniela Radu
MTTLC, Bucharest University