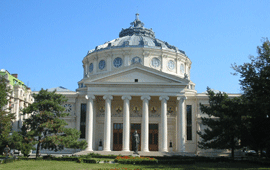 Tuesday Evening Season - 23rd April, 2013
Wednesday, 24 April 2013 , ora 8.57

George Enescu's
Third Sonata for Piano and Violin
opened the Tuesday Evening Season recital. It was a sonata with a Romanian folklore spirit, played with great musicality and sensitivity by two musicians from Belarus, violinist
Daria Varlamova
and pianist
Zhanna Varlamova
, after careful study. They were the protagonists of the recital at the Small Hall of the Romanian Athenaeum on 23
rd
April. George Enescu's sonata was followed by three other works from the French repertoire, by Claude Debussy, Ernest Chausson and Camille Saint Saëns - Eugène Ysaÿe.
Daria Varlamova is only 20 years old. Born in Minsk, in a family of musicians, the young violinist has important concerts and is often accompanied by her mother, pianist Zhanna Varlamova. In this duo they were appreciated at the Cornelia Bronzetti International Violin Competition in 2008 - Daria was awarded first prize, and Zhanna, the one for the best accompaniator. The two musicians came to the Tuesday Evening Season for the second time last Tuesday, at the suggestion of violinist Cornelia Bronzetti, who recommended them thus: 'I would like to say that the Daria and Zhanna Varlamova duo is made up of wonderful musicians and instrumentalists. Daria Varlamova is an exceptionally talented musician, which is why I thought they should return to Romania; they were here before, they even played at the George Enescu Philharmonic. Daria Varlamova deserves to be encouraged and appreciated. I felt that they have great interpretive strength and they already have important achievements. Violinist Daria Varlamova could have a great international career, which she has actually already started very early, thanks to her talent.'
Despite a rather 'cold' feel at first, due to the relatively small audience, the two instrumentalists proved their mastery, performing a complex and colourful programme. The young student of the Folkwang University of Arts, violinist Daria Varlamova, and experienced pianist Zhanna Varlamova, showed self-control, virtuosity, expressiveness, and last but not least, careful musical training, and the reward was equal, as the audience applauded them enthusiastically.
Jeanine Costache
Translated by Irina Borțoi and Elena Daniela Radu
MTTLC, Bucharest University