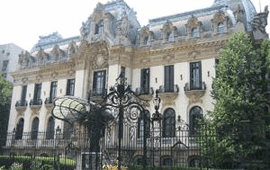 The Union of Composers and Musicologists in Romania Has Chosen its Winners for the Year 2012
Monday, 8 April 2013 , ora 9.23

The Union of Composers and Musicologists in Romania has chosen the most important achievements of last year, which they announced at a gala in the Auditorium of the Cantacuzino Palace in Bucharest on Friday, 5
th
April. The event gathered important artists, such as composers Octavian Nemescu, Nicolae Coman, Doina Rotaru, Sorin Lerescu, musicologists Dinu Ciocan, Valentina Sandu-Dediu and pianist Lavinia Coman.
Among this edition's winners - who were announced by Adrian Iorgulescu, the President of the Union of Composers and Musicologists in Romania - were composers George Balint (winner of the vocal symphony category), Alexandra Cherciu (winner for a vocal-instrumental composition) and Dan Buciu (winner for a large choral composition). The award for song grouping was given to Jolt Kerestely, that for jazz and instrumental music to Mircea Tiberian, while the award for historiography was given to Florinela Popa.
Composer Călin Ioachimescu was given an award in the Symphonic Music category, for his Concerto for flute and orchestra:
'I see that even if I don't write very often, most of my works have been awarded prizes - either by the Union or by the Academy. The concerto for flute and orchestra was performed at the Radio Hall by the Radio National Orchestra for the first time last year, with my son, Matei Ioachimescu, as soloist.'
Chamber work Doiniri, by composer Carmen Cârneci, received another prize:
'Doiniri is an early opus of mine, which I revisited once, noticing unexplored potential. It was played wonderfully by two extraordinary flutists - Ana Chifu and Zacharias Tarpagkos, in a splendid recital that they gave in the Cantacuzino Palace, in the Cantacuzino Hall, two years ago, and I understood once more that it was one of the works that will linger, although it is just a miniature and it's meant for very small ensembles.'
We also talked to young composer Diana Rotaru, who was awarded a prize for a multimedia composition called Hypnagogia:
'It's a very dear work of mine. It was dedicated to very special artists, who are still some of my muses - Irina Ungureanu, Ana Chifu and Maria Chifu. Hypnagogia is a state between dream and reality, which causes hallucinations, it's a bizarre state and I think it's a good definition of music, at least the way I see it now.'
As for the Grand Prize of this edition of the Union of Composers and Musicologists Gala, it was awarded to musicologist Octavian Lazăr-Cosma for the year 2012.
Alexandra Cebuc
Translated by Irina Borțoi and Elena Daniela Radu
MTTLC, Bucharest University