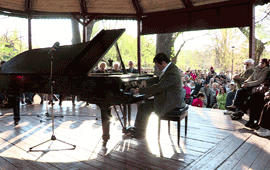 Horia Mihail and the Travelling Piano in the Cișmigiu Park
Monday, 15 April 2013 , ora 9.31

Concert in an Unconventional Location
, was the title used by online news the other day, as a reminder of the concerts that Horia Mihail was to give in Cișmigiu and Herăstrău, during the weekend. There were two concerts that attracted hundreds of people, curios to listen to a piano outdoors or listen to Horia Mihail somewhere else than in a concert hall.
Adina Dragomir
attended the concert in Cișmigiu on Saturday, 13
th
April, 2013.
It weighs almost 700 kilos. Its name is Steinway. It's the oldest of the three pianos. It is approximately 50 years old and, according to the tuner, 'it has the best sound'. The third travelling piano left the Radio Hall on Saturday.
It did not travel very far, only to the Cișmigiu Park. One of the most beautiful and crowded parks in Bucharest at noon was a mosaic of colours, voices and birdsong; a perfect spring day; a perfect day for music. When the piano got to the park, at the gazebo near the kids' area, pulled out of the vehicle and carried by six young men, there was a change of focus. Shyly at first, then with more courage, the passers-by got closer.
So, they were coming here after all. We kept circling around here.
Have you especially come to listen?
Yes, we have.
What do you think is going on here?
Probably a miracle. They must be playing something. We are expecting a great surprise. The piano is walked through the park. I was watching as they got it off and arranged it.
Are you curious about what is going on? I see that you are looking towards the gazebo?
I know that it starts at 17:00. It's a really beautiful project.
Horia Mihail arrived at a certain point:
'I'm very glad that Radio Romania reached the heights of modernism this way. It is known that in the United States of America, Western Europe and other places, this type of concerts, let's call them pops, draws attention to what is beautiful and less exploited, if I may use this word, by televisions and commercial radio stations. This is the way to make people love music, not dragging the children to the concert halls, but going to them.'
Horia Mihail entered the gazebo, sat at the piano and started playing. A young man wearing hiking boots and a leather jacket, a teenage girl with a piercing, blue jeans and sneakers, grandparents with grandchildren, ladies with leaflets with The Travelling Piano, a student with thick-framed glasses, cyclists, lost of kids, boys and girls that you'll certainly not see in a concert hall; people stopping by. They raise their eyes over the heads of the people already surrounding the gazebo and remain listening.
It's true that Beethoven accompanied by birdsong and children's voices doesn't resemble Beethoven in a concert hall, but he feels somewhat closer. That's what two young people, wearing leggings and leaning against their bicycles, are saying.
'I'm glad we have this opportunity and it's a good thing for the community that musicians come to their midst and not just in a concert hall, where not everybody goes. I think this is the first step to open the appetite for this type of music.'
'Yes, it's quite the atmosphere. I believe that everybody feels the same way, as more and more people are coming.'
Which is better? Here in the park or in a concert hall?
Here it's closer to people.
If you had looked from the hillock at the right of the gazebo, you could have seen hundreds of strained necks, people standing on their toes to see better and raised hands. The cameras were panning, capturing Horia Mihail's face, recording the atmosphere.
If there had been a hall, you could have said it was packed, especially at the moment of the applause, when the pianist was asked for an encore and then, at the moment of the autographs, when people didn't seem to want to let him go.

Translated by Mihaela Olinescu and Elena Daniela Radu
MTTLC, Bucharest University