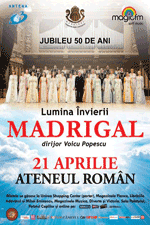 Madrigal - 50
Monday, 22 April 2013 , ora 9.38

On Sunday, 21
st
April, an Easter concert at the Romanian Athenaeum celebrated the 50
th
anniversary of the Madrigal Choir. Ioana Goia, who has a special connection with the choir, was there, too…
I was born in the Madrigal Choir, in 1989, with the Revolution, and both my parents were members of the choir, employees of the Radio today. Before I went to school, I witnessed their rehearsals for years and sometimes even fell asleep there. My parents told me how maestro Marin Constantin used to conduct the choir saying: "Sing so you don't wake her up!"
On Sunday, 21st April, 2013, members of the Madrigal of all ages were at the Romanian Athenaeum, on stage or in the audience. The present choir, although celebrating half a century, is a young one, and the image they conveyed in their new costumes - designed by Doina Levintza - was that of perpetual renewal.
'This evening's concert is an important moment for Romanian music, but I was very glad to hear a series of young voices. The Madrigal Choir carries on Marin Constantin's tradition as far as singing goes.'
'I have known the Madrigal since its founding. I am a friend of Marin Constantin's family and I must say the second half of the concert was charming, it was wonderful, poetic. You leave and you think about this concert and I think the Madrigal is truly progressing.'
'The Madrigal is alive and I am happy to see it because those who are in the choir today have remembered the past and they try to keep it alive. All of these lead us to the real essence of music, which has comforting values, as George Enescu used to say.'
The Madrigal's Easter concert included a novel moment. The Cantus Mundi project, started by Ion Marin, aims to educate children around the country through music. The youngest members of the Radio Children's Choir, along children from schools and kindergartens in Bucharest, went on stage to sing.
Conductor Voicu Popescu has been passed the torch by maestro Marin Constantin and he carries on the artistic ideal that the latter started 50 years ago.
Voicu Popescu: 'I have the duty to create this bridge… Now, we can already speak of a historical Madrigal, thanks to the legacy left by Marin Constantin and the choir that blooms with the young singers who are part of it now and who wish a beautiful career for themselves in the cradle of the Madrigal, in the soul of the Madrigal.'
In 1994, the Madrigal Choir became part of the UNESCO heritage list, but it has truly been a part of the Romanian cultural heritage for 50 years, and we will meet again at the Radio Hall on the 25th May.
Ioana Goia
Translated by Irina Borțoi and Elena Daniela Radu
MTTLC, Bucharest University