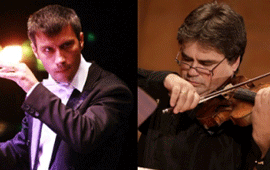 The End of the 'Antique&Vintage Violins' Festival at the Radio Hall
Monday, 15 April 2013 , ora 12.59

"This concert is very dear to me, I performed it many times and I perform it as if it were the first time, every time I have the opportunity. It's an unexpected pleasure because there are few concerts that give you the first time feeling. That's why I think I have chosen it." - these were
Gabriel Croitoru
'swords about the
Concert in D major for Violin and Orchestra, op. 35
, by Pyotr Ilyich Tchaikovsky. The Soloist and the
Cathedral
- as the instrument made by Giuseppe Antonio Guarneriin 1731 - was called, and on which George Enescu performed, in a concert with the National Radio Orchestra under the baton of the conductor
Tiberiu Soare,
ended the second edition of the "
Antique
&
Vintage
Violins"Festival at the Radio Hall. After the reference version of Tchaikovsky's work, Gabriel Croitoru due to the insistence from the audience, offered two more encores.

"I was expecting this. He is an exceptional soloist, the orchestra and the conductor were very good. It's a pleasure and a delight to see that people are enjoying this."
"The performance of the violinist was amazing and the hall was crowded. Tchaikovsky is a well-known name not only in Russian music, but also in the world one. Tiberiu Soare is one of the conductors who give me great pleasure. He has this rhythmicity and armony of the gestures and a perfect agreement with the ensemble. "

The concert, which had an entirely Russian music programme, brought us the Fifth Simphonyby Prokofiev, after the intermission.

The conductor Tiberiu Soare:
"Prokofiev composed this masterpiece, probably his most beautiful and less performed simphony, like a hope that things could be rebuilt and would be better than before. The final message, characteristic of Prokofiev's style has double meaning, because this composer has a special irony, on the one hand it's a message full of hope, that things could be done better than they were; on the other hand, it's a skit against the excessive tehnology, the technological progess and the automation and mechanization of the human soul."

"It was a successful evening, especially with due to the Fifth Simphonyby Prokofiev, under the baton of the conductor Tiberiu Soare, a wonderful work which is rarely performed in our country. It was a special evening. Liviu Prunaru, Croitoru and Bogdan Zvorișteanu seemed to be in great conditions and it was a pleasure to hear them performing. I congratulate the Radio Broadcasting Corporation for organizing this festival."
It was the end of the concert and of the second edition of the "Antique& Vintage Violins"Festival at the Radio Hall. Five evenings and four instruments belonging to the world heritage were the account of an artistic marathon held in the Mihail JoraStudio.
Lucian Haralambie
Translated by Andreea Mesescu and Elena Daniela Radu
MTTLC, Bucharest University