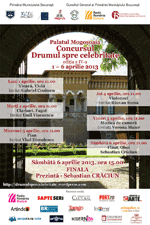 The 'Road to Stardom' Competition - the Fourth Edition
Monday, 11 March 2013 , ora 9.17

The fourth edition of the
Road to Stardom
Competition, the only musical contest in Romania where young jury spectators take the prevailing decisions, will take place at the Mogosoaia Palace, a place full of history and beauty between 1
st
- 6
th
April, 2013.
The Road to Stardom Competition - organized by Radio Romania Culture , 'Pro Valores' Cultural Association, The Bucharest School Inspectorate, The 'Brancovian Palaces' Cultural Center and ExcesMusic - is the only musical competition in Romania which gives real opportunity for young musicians to assert themselves, besides offering money prizes. The first three musicians will be invited to give a concert with the Radio Chamber Orchestra and two recitals at the Mogosoaia Palace and the Peles Castle. The winners will also have the chance of a special recording session in the Radio Romania studios. At the same time, the contestants' performances will be recorded and broadcast by Radio Romania Cultural throughout the country.
This year there will be six stages and a final, and among the special guests who have the role of bringing young audiences to the fascinating world of music, there are important names of the field: violinist Gabriel Croitoru, clarinet player Emil Vișenescu, pianist Vlad Dimulescu, cellist Răzvan Suma and pianist Verona Maier, the guest of the chamber music stage.
The competition has 45 young contestants, pupils and students of Romanian music institutions. All stages, as well as the final, will be hosted by Sebastian Crăciun of Radio Romania. The final will be open to the public, and will take place on Saturday, 6th April, 2013, starting at 15:00.

Translated by Irina Borțoi and <>bElena Daniela Radu
MTTLC, Bucharest University