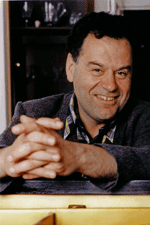 The Pianist Michael Roll - Soloist of the 'George Enescu' Philharmonic Orchestra
Monday, 22 April 2013 , ora 10.27

Within the season of the 'George Enescu' Philharmonic, the English pianist
Michael Roll
was invited on Thursday, 18
th
April, 2013, as soloist of the institution's Orchestra. Born in 1946, the musician became a name in the music world at the age of 17, when he won the first edition of the renowned Leeds International Piano Competition. Under the baton of the conductor
Horia Andreescu
, the pianist opened the musical evening with the interpretation of the
Piano Concerto No. 5 in E-flat major
(the
Emperor Concerto for Piano and Orchestra
) by Beethoven. The composer is a constant in the pianist's career, if we take into account the recording of the complete Beethoven concerts in 1995, with the London Royal Philharmonic Orchestra and the conductor Howard Shelley, or the fact that this year he will be recording the
Bagatelles,
belonging to the same composer's creation. Michael Roll offered the audience an interpretative version of the
Concerto No. 5
in which he tried to combine tradition with a personal touch, a rather cold approach when it comes to the emotion of the music experience. The technical difficulties of the score were easily overcome by means of a sharp sound, with a typically-English elegance and sobriety, whereas Horia Andreescu's manner of conducting stood out through the originality and depth of his approach for this score.
A whole different universe was created in the second part of the concert, through the Symphony No. 8 in C minor by Dmitri Shostakovich. The opening movement, based on a very dramatic motif - a feature that characterizes the entire score - in octaves, was considered by some musicologists as a 'fate' motif. The dramatic quality is however opposed to the Beethovenian one, Shostakovich using a lot of fortissimo, the high compass of the instruments, subjects with a high emotional charge, militaristic marches which create in the background a heavy, threatening atmosphere, a constant pressure that the composer nevertheless tries to ease by the C major finale. All these features were visible in the interpretation of the orchestra, conducted by Horia Andreescu - a very successful collaboration which captivated the audience present in the Hall of the Romanian Athenaeum. Those who could not attend the concert of the 'George Enescu' Philharmonic Orchestra on Thursday evening had the opportunity to listen to the Concerto No. 5 by Beethoven with Michael Roll as soloist and Shostakovich's Eighth Symphony on Friday evening, at 19:00.
Andreea Chiselev
Translated by Mihaela Olinescu and Elena Daniela Radu
MTTLC, Bucharest University