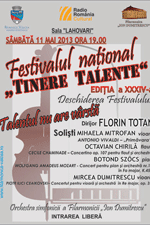 Up and Coming Young Musical Talent at the Festival in Râmnicu Vâlcea
Monday, 13 May 2013 , ora 8.40

Saturday, 11
th
May, 2013, during the 34th edition of the 'Young Talents' Festival in Râmnicu Vâlcea, I was witness to a historic event. While the National Radio Orchestra held a concert for Monarchy Day in Bucharest, a young violinist astonished the public in Râmnicu Vâlcea. Mircea Dumitrescu chose to perform Tchaikovsky's
Concert
. It goes beyond saying that the public was skeptical, but he managed to astonish everyone. Supported by the "Ion Dumitrescu" Philarmonic Orchestra conducted by Florin Totan, the young artist of only fifteen years of age gave a magnificent performance of the work. The technique, stage presence, and especially the sensibility of Mircea Dumitrescu drew long rounds of applause from the music lovers who attended the concert.
For the duration of the past weekend, Râmnicu Vâlcea was host to students from all around the country: Bacău, Sf. Gheorghe, Pitești, Craiova, Bucharest and Vâlcea - all of them emotional, well dressed, and generally accompanied by their parents. They gave it their best. Testament to this is the fact that the performances during this year's edition were, on the whole, of higher quality than those of the previous one.
This is what the Festival's artistic director, Mihai Ștefănescu, had to say: 'I am happy that we have come all the way to this edition. These are up-and-comers, very talented youth. On 20th May - only a few days from now - we will celebrate the centenary of the birth of composer Ion Dumitrescu, the spiritual patron of our Philharmonic, and on the same day we also celebrate Râmnicu Vâlcea's date of birth.'
Talent is without age! - this is what the young musicians who performed during this weekend in Râmnicu Vâlcea proved to everyone; from the fourth grade pianists who performed Chopin to the best of their ability, to sopranos in their final year in high school attempting to embody Tchaikovsky's characters.
Mihaela Tomescu, president of the "Remember Enescu" Cultural Foundation: 'It was a fulfilling experience for everyone who was involved. The festival was a meeting between different schools of teaching from a variety of high schools and colleges. Professionalism is leaving its mark, but also the dedicated and serious work put in by these wonderful youngsters who, having been awarded so many prizes already, had the chance to experience moments of personal fulfilment performing on this stage during the festival in Râmnicu Vâlcea.'
The 'Young Talents' Festival comes to a close this evening (Monday, 13th May). At 19:00, three students of the Bucharest Conservatory will take the stage in the Lahovari Auditorium of the 'Ion Dumitrescu' Philarmonic in Râmnicu Vâlcea: soprano Alexandra Tărniceru, pianist Denisa Partenie and flutist Oana Leonte.
Ioana Goia
Translated by Șerban Dudău and Elena Daniela Radu
MTTLC, University of Bucharest