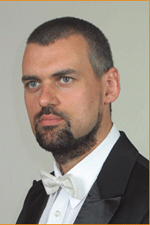 Mozart's Requiem, a Novel Version during the 'Musical Evenings at the Lutheran Church'
Saturday, 4 May 2013 , ora 8.44

On Good Friday, 3
rd
May, the
Musical Evening
held in the Lutheran Church under the patronage of the 'Lanto Arte' Cultural Association brought to the audience one of the most dramatic works written by Wolfgang Amadeus Mozart. The
Requiem in D minor
united, under the baton of conductor Jůzsef HorvŠth from Cluj-Napoca, the members of the 'Madrigal' National Chamber Choir and those of the 'Lanto Arte' Orchestra, alongside four soloists: soprano Dragana Radakovic, mezzo-soprano Andreea Iftimescu, tenor Mihai Laz"r and baritone ™tefan Ignat.
The feeling Mozart confessed to having while composing the Requiem - that he was 'composing his own requiem' - came true before the composer was able to complete the opus. Sussmeyer, the composer's disciple, was the one to complete the Requiem, following the author's drafts. On the evening of the 3rd of May, the audience in Bucharest had the opportunity to listen to Mozart's famous work in a novel version, completed by Robert D. Levin - American pianist, composer and musicologist. Jůzsef HorvŠth discussed with us the changes brought to the musical composition by the new version of the score. 'The fundamental difference lies in the removal of Sussmeyer's interventions to the work and the addition of new ones: of the Amen fugue after Lacrimosa, the development of the other fugues after Sanctus and a series of modifications to the orchestration of the work. Levin is of the opinion that Sussmeyer hadn't fully grasped Mozart's style and proposes to recreate this work in the spirit of Mozart's final Misses, which were created around the same time as the Requiem.

What was the thought process behind the new version of the work, interpretatively?
Jůzsef HorvŠth: 'We paid close attention to the details of the score and attempted to adapt to the acoustic conditions of the Lutheran Church, which include deep reverberations; certainly, it is difficult to play in such a setting, but I hope our performance was to the liking of the audience.'

The musicians on stage had a difficult task ahead of them - adapting to acoustic conditions that are very different from those in a concert hall, but also to quick tempos, meant to enhance the dramatic character of the work - and their efforts were rewarded with consistent rounds of applause from the audience, who felt the full depth of the emotional states expressed by the music in the Requiem. Music wherein beauty is victorious against suffering.
Alexandra Cebuc
Translated by ™erban Dud"u and Elena Daniela Radu
MTTLC, The University of Bucharest