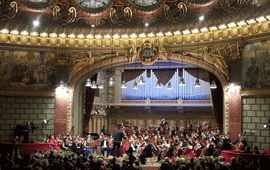 The Concert Performed by the Romanian Youth Orchestra's at the Romanian Athenaeum
Monday, 20 May 2013 , ora 8.01

'At almost six years since it has been launched, this project is no more just a dream, but a confirmation that all our investment and work each year bear fruit and that the orchestra has reached such a high level that may impress even the slightest prepared person to listen to classical music,' says
Marin Cazacu
about the concert that The Romanian Youth Orchestra held at the European Federation of National Youth Orchestras which took place at the Romanian Athenaeum on Saturday, 18
th
May, 2013.
The programme was based on Shakespeare's play - Romeo and Juliet and it consisted of Tchaikovsky's fantasy-overture of the same name as the play, Prokofiev's Ballet Suite and three arias by Gounod interpreted by The Romanian Youth Orchestra accompanied by soloists Irina Iordachescu and Teodor Ilincai.
Here are some statements that soprano Irina Iordachescu made at the end of the concert:
'I am very happy! I have been feeling an extraordinary energy since I met them and since I sang with them at our first rehearsal I have been feeling fantastic everyday! They are amazing, very talented, motivated and highly conscientious. I have retrieved that professional conscience. In my view, The Romanian Youth Orchestra is one of this country's most precious jewels. This orchestra's conductor fascinates me because he makes me understand what he wants from the soloist or the instrumental performer standing right in front of him.'
Before the musical soirée ended, conductor Cristian Mandeal, Marin Cazacu - manager of the Romanian Youth Orchestra and Dorin Ionita had been grated the honorary jubilee medal from the Order of DeMolay Youth Organization.
Here are some thoughts at the end of the concert:
Composer Dan Dediu says: 'It is, indeed, a great achievement for Marin Cazacu and The Romanian Youth Orchestra to gather here the pick of the representatives of The European Youth Orchestras. This way, they saw the level of the musical performance, they saw the concert hall and how crowded does it get at this sort of events. I think that they will go home with different opinions and impressions about Romania and The Romanian Youth Orchestra.'
Music critic Dumitru Avakian: 'The Romanian Youth Orchestra represents youth's enthusiasm towards music. And when the musical ensemble is run by such a professional skilled man such as Cristian Mandeal, the odds of success are even greater.'
Lucian Haralambie
Translated by Morosanu Petronela and Elena Daniela Radu
MTTLC, The University of Bucharest