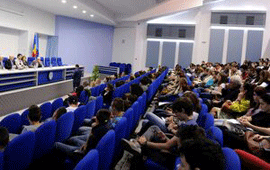 The Annual Conference of the European Youth Orchestras
Monday, 20 May 2013 , ora 8.11

The Romanian Youth Orchestra is "a project meant to help Romania, a hope for a brighter future, because it is very important to create something special for your country. This was my ambition when I started this project, to change the way people think." - quoted from Marin Cazacu at the press conference held on Saturday 18
th
May, at the conclusion of the Annual Conference of the European Federation of Youth Orchestras.
This event was held for the first time in Romania in the capital, and was organized by the Romanian Youth Orchestra, member of the Federation since 2011, with the support of the 'Friends of Music - Serafim Antropov' Foundation and the Lanto Communication Association. The speakers at the press conference were Renate Böck - President of the Federation, Pierre Barois - Director of the French Youth Orchestra and Marin Cazacu, Director of the Romanian Youth Orchestra, and the guests included Liliana Staicu - Chief Editor at Radio Romania Musical, Dan Dediu - Rector of the National University of Music in Bucharest, Mihai Constantinescu - Manager of Artexim, and the organizer of the "George Enescu" International Festival and Competition, conductor Horia Andreescu.
President of the Federation, Renate Böck, spoke to us about the topics discussed during the Annual Conference of the European Federation of Youth Orchestras: 'During each of our meetings, we discuss the most important topics of the day, some of which are always on the table: musical education, motivation, but also the frustrations of young musicians. We also discuss new applications, on this occasion we were happy to meet with the representatives of Youth Orchestras in The Republic of Moldavia and Portugal, countries that weren't members of our Federation until now.'
The European Federation of Youth Orchestras was founded in 1994, with the main objectives of shaping the future of symphonic music, creating a platform for communication between ensembles and promoting educational exchanges between young musicians from a variety of countries. Youth orchestras began developing during the 1980's, as Renate Böck mentioned, because 'in many countries there was very limited orchestral practice in musical universities and a lack of motivation to become a professional musician.' Unlike the one in Romania, the Youth Orchestras of other countries usually receive financial support from their respective governments, and in Poland for example, musicians also receive a salary for their work.
At the end, Renate Böck shared with us her impressions of our Youth Orchestra: 'Romania was a great surprise for me. I learned about this ensemble from the representatives of the Polish Youth Orchestra who told us that there was a great Youth Orchestra in Romania and that we should get in touch with them. Afterwards we received the application from Marin Cazacu, went to their website, listened to recordings of their performances and I was impressed. Congratulations to Marin Cazacu and his team for this achievement. The Romanian orchestra is a trusted member of the Federation, and it hosted this gathering, which was very well organized; I am very pleased.'
Andreea Chiselev< /b>
Translated by Șerban Dudău and Elena Daniela Radu
MTTLC, The University of Bucharest