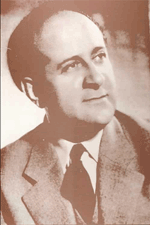 Ion Dumitrescu Centenary
Thursday, 20 June 2013 , ora 7.57

On 20
th
and 21
st
June, 2013, the 'Ion Eliade Rădulescu' amphitheatre of the Romanian Academy Library in Bucharest will host a symposium dedicated to composer Ion Dumitrescu's birth centenary. Some of the speakers will be composer Theodor Grigoriu, musicologists Grigore Constantinescu, Laura Manolache, Mihai Cosma, pianists Lavinia Coman and Sandală Hârlav Maistorovici.

Ion Dumitrescu, in the words of academician Răzvan Theodorescu:
'Ion Dumitrescu is the maker of musical life in the Romania of the 50s, 60s, 70s, when he led the Union of Composers - and I say this without being a musician, but rather just a music lover. He has made this guild a stronger one than that of writers, of plastic artists, by managing the Composers' Union. This freedom was and is acknowledged by all great Romanian musicians. It lasted until 1977, when Ion Dumitrescu ceased to lead the guild. Above all, he was a lover of man, an intelligent, cultured person with a great sense of humour, a great inhabitant of Vâlcea, a great Oltenian.
I have a very clear memory of him and of the distinguished poet Mariana Dumitrescu. It was in late 60s, when I was in the church in Oteșani, Ion Dumitrescu's birthplace, and I discovered a fresco from 1850 that depicted one of his forefathers, a Mr Prodescu, who was wearing European clothes in this painting made before Cuza's reign, as well as a clock in his waistcoat. When I knew him better, I told him about this and he found it lovely, saying: "Mr Teodorescu, do you know that clock came from Vienna and it played Eine Kleine Nachtmusik? I still have it." Ilinca Dumitrescu told me that she wanted to add it to the exhibition that will open at the Academy Library.
Ion Dumitrescu - a distinguished man, a man who, during the frozen 70s, when the Romanian Academy was a closed circle, could not be a member of the Academy, but his ties with it were strong. Sinfonietta was proposed in '57 and it was awarded the Academy's 'Enescu' Prize, at the proposal of academician Mihail Jora, it was performed by George Georgescu - a corresponding member of the Academy - for the first time and it was Ion Dumitrescu's academic peak, when he was chosen to be a corresponding member of the Institut de France - Académie de Beaux-Arts, in Paris, in Britten's place, where only Enescu and Mihalovici had been chosen before. I repeat, he was the maker - in a way - of the modern guild of musicians and he was the man who these artists owe a lot.'

Composer Sabin Păutza about Ion Dumitrescu

Maestro Sabin Păutza, was Ion Dumitrescu a model and a mentor of many generations?
For our generation he was, indeed, a mentor and a man whose image has stayed with us for decades, through the way he knew how to be close to his students. Although we didn't see him often - he was in Paris, he was travelling, he was doing his own work of composer and president of the Union of Composers - whenever he came to class he was able to approach us in the most sensitive way. So he was a real model for my generation.

What did you learn from Ion Dumitrescu?
Much more than Harmony. I mean, he was my Harmony professor and I majored in this for a reason, and I taught Harmony for over 40 years at several conservatories and universities in the world. I remember he was marking our homework in Harmony and from a simple mistake of classical harmony he could end up speaking of great mistakes we can make in life, at various ages. He was, how shall I put, extremely wise in his own way, a wise Oltenian, but who also conquered Paris in his way.
Sorina Goia
Translated by Irina Borțoi and Elena Daniela Radu
MTTLC, The University of Bucharest