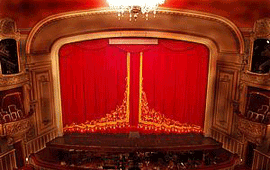 The Final Performance at the Bucharest National Opera at the end of the Season
Friday, 5 July 2013 , ora 9.55

The 2012- 2013 season of the Bucharest National Opera was closed on Sunday, 30th June with two masterpieces: Tchaikovsky's Violin Concerto and Carl Orff's Carmina Burana. Ioana Goia offers us more details in her coverage of this closing concert.
At only 15, not only that he plays Tchaikovsky's Violin Concerto, but his performance is also clean, expressive and empathic. Mircea Dumitrescu managed to make an impression on the audience, during the Bucharest National Opera season finale on Sunday evening. Gabriel Croitoru was not an exception: 'The boy has a promising future lying ahead of him. He is very talented and I am glad that he finally had the opportunity to play Tchaikovsky's Violin Concerto on such an important stage in Bucharest. '
It was such an atypical season finale! The season was not closed with an opera or a ballet performance, but with a violin concert and a secular cantata.
'Everything that I composed until now may as well be torn to pieces. My complete works begin with Carmina Burana, 'as Carl Orff said. Since its first audition until last night, cantata was a magnet, on every poster with its name on it. The version performed at the Bucharest National Opera sounded colorful and was engaging while the pacing proposed by maestro Horia Andreescu was amazing.
'The concert was sensational! I particularly liked Mircea Dumitrescu; he is a remarkable boy. We had a great time and we would come again .'
'The boy is a genuine talent and he is only 15! I heard him playing when he was 11 years old and his performance was promising. Now we can see that he has already promised and kept his word.'
'It was overwhelming! The organizers have all my admiration. I wish that those who have the authority and are in charge with promoting this kind of events to do their duty because these artists deserve to be applauded, congratulated and they deserve our support. We should promote this type of art more! '
The Bucharest National Opera's 2012 - 2013 season finale is the first one under the management of Razvan Ioan Dinca:
'I hope the fact that hall is always filled with people who enjoy our events speaks for itself. There are some parts which need to improved, new elements that we must come up with in order to comply with the audience's need for fascinating things. There are many surprises and great shows lying in store for the audience, the following season. The National Opera needs important events like these to speak to the audience.'

Translated by Morosanu Petronela and Elena Daniela Radu
MTTLC, The University of Bucharest