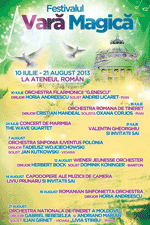 The Romanian Athenaeum Hosted the first Magic Summer Evening
Thursday, 11 July 2013 , ora 9.24

The second edition of
The Magic Summer
Festival, promoted by the Romanian Athenaeum, was opened by a concert last night. Lucian Haralambie has given us further details about the event:
'I confess that I have looked forward for the Magic Summer to take place.'
'It is my first concert. It is a high- class debut.'
The fact that it was a full house shows that this kind of festival is more than welcomed these days. It was The George Enescu Philharmonic Orchestra that opened the Magic Summer's second edition. Under the baton of Horia Andreescu, the ensemble performed during the first half of the concert, pieces from Tchaikovsky's Swan Lake and Rachmaninoff's Piano and Orchestra Concerto No. 2, with Andrei Licaret as soloist.
'Andrei's evolution is fantastic! His performance gets better and better day by day and he is turning out to be a complete artist.'
The second part of the programme included pieces from Bizet's L'Arlésienne, Tchaikovsky's Italian Capriccio, followed by a ripple of applause and an unexpected encore and also, Leonard Bernstein's Mambo from West Side Story. In conclusion, this first Magic Summer evening turned out wonderfully.
'It was an exceptional concert! Maestro Horia Andreescu always entertains us with the most beautiful and successful performances. I listened to an interesting approach to Rachmaninoff performed by the young musician Andrei Licaret, whom I congratulate; and the second part was as exuberant as all the other concerts that maestro Horia Andreescu has always managed to deliver to us. Tchaikovsky and Bizet ended a wonderful summer evening.'
'It was a delightful and very well conducted concert while Andrei Licaret is a promising young musician ! '
'Andrei Licaret's performance of Rachmaninoff's concert was very interesting. There were some very good moments during the third part, very well conceived both from a technical and a performing point of view. He played with feeling and was a great leader. His performance shows his sensitive part. Today, we saw a perfect synchronization between the baton and the orchestra, the music fading out very well, while the whole concert was amazingly conducted and carried up. '
Lucian Haralambie
Translated by Morosanu Petronela and Elena Daniela Radu
MTTLC, The University of Bucharest