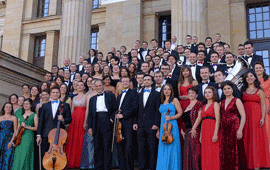 'Magic Summer' at the Romanian Athenaeum with the Romanian Youth Orchestra
Wednesday, 17 July 2013 , ora 9.27

On 16th July, 2013, we came back to the Athenaeum to listen as gladly as ever to the Romanian Youth Orchestra, under the baton of maestro Cristian Mandeal, on one special evening, with several connotations, because it anticipated the tour they started in Italy on 17th July, where they would give the same performance at the Santa Cecilia Hall in Rome. It will probably be the first Romanian orchestra applauded on that prestigious stage.
We listened to a new programme, a very difficult one, and the only repeat, Enescu's Rhapsody No. 1, on a rather different, even surprising take of maestro Mandeal's, re-read in a way that I suppose can be closer to the Italian audience's perception. But in Richard Strauss' Burleske, the orchestra ensured an excellent accompaniment to a pianist whom I listened to after many years, Oxana Corjos, who was a real surprise, so the score was very well received by the audience who was perhaps a little less familiar with that work.
But the most interesting part was the Pictures at an Exhibition Suite by Mussorgsky/Ravel, an exceptionally played one, in a rare rendition of the score, with such emphasizing of the prospective characters, of the images, with such expressivity that the course of the performance was becoming almost cinematic; it was such a strong, grandiose one that one remained speechless. So, the end was climactic and I am not exaggerating at all. The long ovations were rewarded with two encores from Wagner and, of course, the Hora Staccato, which are probably the encores they have prepared for the concerts in Italy, as well.
The tour will definitely be very successful, as the Romanian Youth Orchestra has accustomed us from its first public performance.
Anca Florea
Translated by Irina Borțoi and Elena Daniela Radu
MTTLC, The University of Bucharest