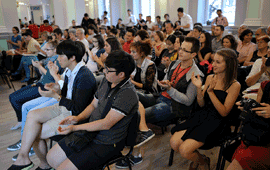 ICon Arts - New Challenges
Thursday, 1 August 2013 , ora 10.46

The 11th edition of the ICon Arts Academy and Festival continues in Sibiu. On Tuesday, 30th July, 2013, the Mirror Hall of the Democratic Forum of the Germans - a packed venue - hosted the concert of the ICon Arts Ensemble. After a few years of blending the organizers' ambition and tenacity with conductor Gabriel Bebeșelea's knowledge and perseverance, there is a new ensemble in Sibiu now, a homogenous group of contemporary musicians willing to assert themselves who, by gaining healthy value, become as worthy as any other great European ensemble of the same sort.
During Tuesday's concert we could listen to seven works, two by the festival's resident composers, namely those who have won the international selections: Sumio Kobayashi and Sebastian Androne. Surprisingly, the Japanese composer was inspired by Eminescu's Morning Star, which was a beautiful thing that made him create very sensitive, tender, airy music. On the contrary, the piece written by the Romanian composer - Nubilum, very well built - has poignant themes and rhythms, and some of them are inspired from folklore. Five other Romanian compositions were presented, and they will also be heard at the 'George Enescu' International Festival; they were composed by Cătălin Ștefănescu Pătrașcu, Diana Gheorghiu, Alexandru Murariu, Dan Variu and Vlad Maistorovici. These five works completed each other in creating a complex sensorial picture, which guided the audience from the ineffable world imagined by Diana Gheorghiu to the strength of the effects and rhythm in Vlad Maistorovici's work, while offering quality humour with Dan Variu's composition.
On Wednesday, 31st July, there was the recital of the ICon Arts 2013 students (Performing section), coordinated by Ladislau Csendes - violin, Godri Orban - bassoon, Gergely Bodoky - flute and Emil Vișenescu - clarinet. Almost twenty young musicians played works by Debussy, Xenakis, Telemann, Vanhal, Mendelssohn, Honnegger, achieving true musical journeys through centuries of music, various styles and ages. In my opinion, flutist Ștefan Diaconu distinguished himself by offering a convincing version of Claude Debussy's Syrinx.
On 1st August there will be the concert of the percussion and organ classes, at the fortified church in Cisnădie. On Friday, 2nd August, the Alfelhaus in Cisnădioara will host a performance by the jazz and contemporary dance students, and on Saturday, starting 7 p.m., at the Râșnov citadel, we will see Telemaque (France), Musiques Nouvelles (Belgium) and ICon Arts (Romania), groups that will be conducted alternatively by Raoul Lay and Jean Paul Dessy under the name of the European Contemporary Orchestra.
We will also listen to works by Ted Hearne, Pierre-Adrien Charpy, Martjin Padding, Francois Narboni, Liviu Dănceanu and Adrian Iorgulescu.
Sebastian Crăciun - correspondence from Sibiu
Translated by Irina Borțoi and Elena Daniela Radu
MTTLC, The University of Bucharest