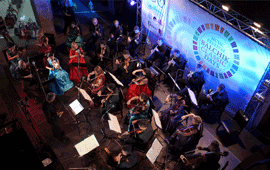 The National Radio Orchestra in Balchik
Monday, 29 July 2013 , ora 10.53

At the seaside, on the sea front, between two hotels, before an audience of 500 tourists, the National Radio Orchestra gave an all-Mozart concert on Saturday, 27th July, 2013. At the front of the stage, there were 300 seats and almost all were taken. On the sea front, tourists in shorts, with beach towels and mattresses, stopped to listen. More people were listening from the balconies of their hotel rooms. They pulled up chairs and enjoyed the concert. The amplified sound of Mozart's music was carried by the breeze, across the open sea . The Romanian orchestra brought him to the hearts of music lovers. On the first floor there was a Scottish tourist, on the seats - tourists from all over the world.
'It's very nice to meet music and tourists in the middle of summer, in Balchik,' says a Bulgarian woman coming from Sofia.
'It is wonderful; a very pleasant atmosphere. It's lovely to listen to music like this. A live orchestra, outdoors,' thinks a Ukrainian tourist.
'It's spectacular. I knew about the concert and I came here from Bucharest. I'm a great fan,' says Ana Maria, lawyer, from Romania.
On every terrace there is someone listening to the concert. In front of the stage, the crowd is packed. In the lobby of one of the hotels, the sofas are all taken.
On one of them, actor Sebastian Papaiani, who has come to Balchik for the first time: 'I was amazed by the concert. In fact, I wanted to talk about it. It is something good that's going on, it is something that people don't ask for, but when they see it, when they hear this performance, they come and listen, I couldn't find a spot, there were no empty seats and this is something new.'
I am watching the people breathe in music and wonder what Queen Marie would have thought of such a concert.
Violinist Gabriel Croitoru answers:
'I think she would have liked it. I hope she would, in fact, I'm sure of it, considering we all know she was an artist. There are a lot of Romanian memories here, if I may say so. These initiatives that bring music among the people are very, very good ones and all they do is bring music lovers to our concert halls, too.'
The Balchik Classic Days Festival continues until 3rd August on the white shore of the Black Sea, as Balchik is sometimes called, because of the limestone rocks that surround it.
Ioana Goia
Translated by Irina Bortoi and Elena Daniela Radu
MTTLC, The University of Bucharest