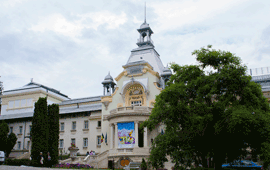 The Opening Concert of the 'Enescu and the Music of the World' International Festival
Wednesday, 7 August 2013 , ora 10.12

Tuesday, 6th August, 2013, the first evening of the 'Enescu and the Music of the World' International Festival turned out to be an incredibly pleasant surprise for the audience that packed the sumptuous hall of the Casino in Sinaia.
'We are opening the festival by taking a look at the future.' - said the violinist Marin Cazacu, the heart and mind of this artistic event, which gains momentum every year.
After the Romanian Youth Orchestra and the Romanian Sinfonietta Orchestra, established orchestras comprising the best young Romanian musicians, the Foundation 'Friends of Music - Serafim Antropov' brought the new Junior Orchestra on stage for the first time, under the title 'The Generation of the Third Millennium'; the orchestra is made up of pupils, aged between 13 and 16.
The first part of the concert was performed by 12 of the 18 instrumentalists, with spectacular recitals of the soloists, within a programme that was carefully chosen in order to prove both the virtuosity and the capacity to understand the music of Bach, Paganini, Wieniawski, Ravel, but also Constantin Dimitrescu and Grigoraș Dinicu correctly and, more than that, in depth. Arrived in Sinaia from Bucharest, Iasi, Cluj Napoca, Buzău or Slatina, Alexandra Bișoc, Irina Barbu, Radu Andrei, Mihaela Mitrofan, Paul Răducanu, Adriana Gabrian, Corneliu Știrbu, Radu Kiss, Mircea Dumitrescu, Mălina Ciobanu, Maria Marica and Alexandra Bobeico fully confirmed the assertion made by the maestro Marin Cazacu, that they will be the Romanian musicians the international music world will be talking about over the following decades.
In the second part of the evening, under the baton of the conductor Gabriel Bebeșelea - he himself very young, at 25 - the new Junior Orchestra, with the violinist Alexandra Bobeico as concert master, interpreted Mozart's Little Serenade and Béla Bartók's Romanian Dances with an irresistible freshness.
Cristina Sârbu
Translated by Mihaela Olinescu and Elena Daniela Radu
MTTLC, The University of Bucharest