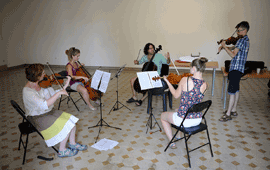 Romanian Music in Rome
Thursday, 8 August 2013 , ora 13.27

When Ottorino Respighi was impressed by Rome, he thought about its pines and fountains. These days whenever I say 'Rome', I'm thinking first of all about its unbearable heat. Despite these scorching conditions, a few Romanians still organize an international mastery class in Italy's capital, the first one after 11 editions that took place in Romania. The ICon Arts Academy closed its doors last Saturday (3rd August, 2013) in Sibiu, only to leave for the Eternal City in a daring attempt to improve our country's image in the European capital where it is actually the worst.
On its first edition abroad, organizers ExcesMusic and the Union for Interpretive Creation of Romanian Musicians, invited two Romanian artists to the Accademia di Romania; they are to be teachers of percussion and chamber music, they are musicians with enviable careers and who have settled abroad, who do credit to the country where they were born, where they were taught and where they often come back, with their well-deserved international recognition. They are percussionist Mircea Ardeleanu, living in Switzerland, and the ConTempo Quartet's cellist, a resident cellist in Galway, Ireland - Adrian Mantu.
This pilot edition of the ICon Arts Rome - 2013 features 15 young musicians from Italy, France, Ireland, Switzerland and Romania. They will give a concert on Sunday at the Accademia di Romania in various interpretive formulas. This concert has a double signification: on the one hand, it is the end of this mastery class, and on the other hand it is the beginning of the Extraordinary 'Discover Romania' International Tour, through the ICon Arts Trio's performance, who will play Aubade by George Enescu. Through 'Discover Romania', Radio Romania Culture, The Pro Valores Association, the Union for Interpretive Creation of Romanian Musicians and ExcesMusic hope you will discover the true Romania, a country of inter-ethnic understanding and co-operation, a country of talented, creative and valuable people, a country of great cultural and touristic potential. The ICon Arts Trio members, violinist Simon Csongor, violist Kardos Margit and cellist Csilla Kecskes Aved, three artists from Târgu Mureș, will play next week in three venues in Romania which are great touristic attractions. Thus, we will be able to hear opuses by Enescu, Dohnányi and Schubert in the wine-tasting hall at the Ostrov Vineyard on Friday, 16th August, starting 19:00, in the Music Room of the Peleș Castle on Saturday, 17th August, at 17:00 and in the Carpet Hall of the Mogosoaia Palace, on Sunday, 18th August, starting 17:00 .
Sebastian Crăciun
Translated by Irina Borțoi and Elena Daniela Radu
MTTLC, The University of Bucharest