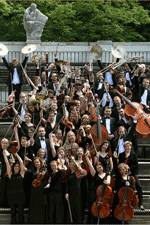 A Concert of the 'Sinfonia Iuventus' Polish Youth Orchestra within the 'Enescu and the Music of the World' Festival
Monday, 12 August 2013 , ora 14.56

On Thursday, 8th August, 2013, I attended the concert of 'Sinfonia Iuventus' which, in maestro Marin Cazacu's opinion, is one of the best youth orchestras in the world. The ensemble brings together Polish musicians, graduate students and graduates with ages between 22 and 30. It was set up in 2007 and the first concert took place in 2008. Since then, the instrumentalists have been trained by the best Polish and foreign conductors and their concerts enjoy a huge and well-deserved success at home and abroad: in Austria, China, France, Germany, Italy, Lithuania, Portugal, Spain, Switzerland, Ukraine and now in Romania, too.
Meeting a youth orchestra is always a pleasure and an obvious source of energy. Artists at the beginning of their careers, the Polish instrumentalists want to prove what they are capable of and they do that with dedication, enthusiasm, ambition and, most of all, accepting responsibility. Not for one moment do they forget that they are the 'ambassadors' of the musical culture of a proud and talented people. They chose a repertoire that they know not only with their minds, but one which they also feel profoundly with their souls; the repertoire mostly comprises the music of Eastern Europe: of course, first of all, the Polish Moniuszko, but also the Polish Lutosławski and the Hungarians Liszt and Kodály. The most important moment of the evening was the overture Light Cavalry composed by the Austrian Franz von Suppé and considered a most difficult test for a large group of players of wind instruments. Full of confidence, the Polish instrumentalists willingly took the chance of presenting a renowned work, which practically everyone is familiar with, and I am very glad to be able to say that their interpretation was impeccable, brilliant, spectacular, rewarded by the audience with stormy applause and enthusiastic 'bravos'. The programme of the evening also included Gypsy Airs by Pablo de Sarasate, with Jan Kutkowski as soloist, the orchestra's concert master. The conductor of the concert was the maestro Tadeusz Wojciechowski: he became the artistic director of the ensemble in 2009 and starting with 2012, he is the general director.
The Polish artists' gesture at the end of the performance was impressive: while the audience was applauding, they all congratulated and hugged one another, happy that with their performance within the 'Enescu and the Music of the World' Festival, they managed to enter another exceptional concert on the list of international successes of the 'Sinfonia Iuventus' Orchestra.
Cristina Sârbu
Translated by Mihaela Olinescu and Elena Daniela Radu
MTTLC, The University of Bucharest