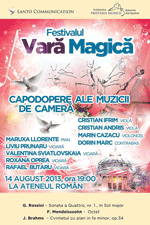 Chamber Music Masterpieces at the Romanian Athenaeum - Part of the 'Magic Summer' Recital Series
Monday, 19 August 2013 , ora 9.07

Liviu Prunaru and his guests, Maruxa Llorente - piano, Valentina Sviatlovskaia, Roxana Oprea, and Rafael Butaru - violin, Cristian Ifrim and Cristian Andriș - viola, Marin Cazacu - cello, and Dorin Marc - double bass, will take to the stage for the second time in this formula, after their performance during the 'Enescu and World Music' International Festival in Sinaia. The programme consisted of the
Sonata a Quattro no.1 în G major
by G. Rossini,
The Piano Quintett în F minor op.34
by J. Brahms, and
Octet, op.20
by Felix Mendelssohn.
Musicologist Grigore Constantinescu spoke to us about the event on Wednesday, 14th August, 2013:
"I didn't expect such a varied programme to have such exceptional moments! What we have been treated to tonight was the art of maestros who manage to play together with so much joy and offer the public a very special kind of music, the music of composers in their youth - Rossini and Mendelssohn, and the music of masters at their peaks - in this case, Brahms. It is difficult to call this concert or chamber music, I think we have to simply refer to it as music, and indeed, starting with Prunaru and ending with Marin Cazacu, magical music."
line-height: 150%;">
Here are some opinions from the audience:
"It was an extraordinary recital! Liviu Prunaru is the best violinist we have. They were all good. We thank professor Cazacu for everything that he is doing for us this summer."
"Brahms is something altogether special, and not only Liviu Prunaru, but all the other musicians who performed were sensational. Each and every one of them is amazing taken individually. And together, they made up a very beautiful team. They have very valuable instruments that they used to their maximum potential, so it was a delight!"
Lucian Haralambie
Translated by Șerban Dudău and Elena Daniela Radu
MTTLC, The University of Bucharest