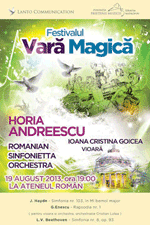 'Romanian Sinfonietta' at the Athenaeum - 'Enescu and World Music' Festival
Tuesday, 20 August 2013 , ora 8.02

On 19
th
August the Romanian Sinfonietta Orchestra gave a concert at the Romanian Athenaeum under Horia Andreescu's baton. Lucian Haralambie was our reporter at the event and the conductor stated:
'Most members of the ensemble have come to play for the orchestra for the first time, so it was their first experience, with a very serious and challenging programme, they worked very hard. Beyond the technical difficulty, beyond the expectations for nuances and phrasing, things began falling into place and we started to communicate and eventually convey to the audience that state of wellness and of understanding music, which brought them happiness, too.'
The first part included the Overture of the opera The Barber of Seville by Gioachino Rossini and the Concerto op. 64 in E minor for violin and orchestra by Felix Mendelssohn. Ioana Goicea was the soloist.
Pianist Mihai Ritivoiu, who attended the concert, stated the following:
'A youthful performance, a really brilliant yet emotional one of Mendelssohn's concerto, which I consider a masterpiece and I am always glad to listen to it; temper, passion, love, emotion - Ioana Goicea showed all of these. When the audience feels the emotions, it's obvious that something good is happening on stage. It was a wonderful Mendelssohn.'
During the second part, the great audience in the Large Hall of the Athenaeum could listen to Ludwig van Beethoven's Symphony no. 8. Loud applause and an encore that the audience loved: Libertango by Astor Piazzola. On the whole, it was another Magic Summer evening.
A few opinions after the concert:
- We were charmed by the youthfulness of the orchestra and by their enthusiasm. Maestro Andreescu outdid himself and offered these young people exactly what they needed to charm us. They had freshness and you could see it on their faces that they were glad to perform, so we the audience were delighted.
- A truly wonderful concert. It seems like they already have a sound of their own and they have developed it as an ensemble, and maestro Andreescu knew how to take full advantage of this.
Lucian Haralambie
Translated by Irina Borțoi and Elena Daniela Radu
MTTLC, The University of Bucharest