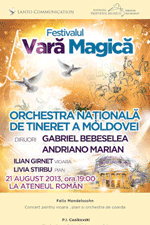 21st August, 2013 - the Finale of the Magic Summer Festival
Thursday, 22 August 2013 , ora 7.46

Yesterday evening, the festival organized by Lanto Communication Cultural Foundation, which took place at The Romanian Athenaeum, was closed by the Moldovan Youth Orchestra. The evening was opened by the
Nistru
tone poem, composed by Stefan Neaga. The first part, conducted by Andriano Marian was completed by Felix Mendelssohn's
Concerto for Violin, Piano and Orchestra
, having Livia Stirbu and Ilian Garnet as soloists.
With Gabriel Bebeselea at the music rack, the Moldovan Youth Orchestra closed the final evening of The Magic Summer Festival, by playing Pyotr Ilyich Tchaikovsky's Symphony No. 5.

Cellist Marin Cazacu is giving his opinion about the last concert and the festival:
I congratulate them for coming to Romania with a musical piece signed by one of their fellow countrymen, Stefan Neaga, who studied to become a composer both in Bucharest and Moscow, although the Moldovan folkloric touches resemble the Romanian ones. The orchestra was founded two years ago. I know this fact because they followed the Romanian example and I am glad that they managed to add to their local record a youth orchestra which has already made a very good impression here, at The Romanian Athenaeum. The second edition of The Magic Summer Festival is a very important project for Bucharest because the locals who love classic music can finally come to the Romanian Athenaeum.

We are closing with some audience reviews:
They were so engaged in their performance! We saw the passion with which they played at the other orchestras as well, but they brought something extra, that is, warmth and intimacy with the audience. Also, the level of the two Moldovan soloists is extraordinary.
I was pleasantly impressed by the virtue of this youth orchestra that proves great mastery and sensitivity. The idea of prolonging music through these weekly meetings on summer is the mere reflection of a noble and tender soul.
Lucian Haralambie
Translated by Morosanu Petronela and Elena Daniela Radu
MTTLC, The University of Bucharest