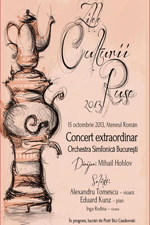 The Days of Russian Culture - Grand Opening
Wednesday, 16 October 2013 , ora 14.57

On Tuesday, 15th October, a fantastic concert marked the opening of The Days of Russian Culture - 2013. Russians and Romanians got together so they could perform for the audience, a flawless concert in celebration of 135 years since Romanian-Russian diplomatic relations were established. The Bucharest Symphony Orchestra - conducted by Mihail Hohlov from Russia - accompanied by Alexandru Tomescu and Eduard Kunz in a programme exclusively presenting musical opuses from Pyotr Ilyich Tchaikovsky's work.
Before these two artists got on stage, we were pleasantly surprised to notice that, following the Orchestra, a young violonist showed up, as well and she performed the Russian dance from the 'Swan Lake'. Inga Rodina is 13 years old and she studies at the prestigious Gnessin School in Moscow, where she has already received numerous awards and scholarships. I can easily state, without fear of exaggeration, that her perfomance showed every sign of a future successful career in the domain. She displayed a strong personality that blends well with her carefully rehearsed technique and her fine attention to details.
Alexandru Tomescu performed three musical pieces composed by Tchaikovsky - Meditation and Melody from the cycle 'Souvenir d'un lieu cher' and the Valse-Scherzo. These are works that I have heard played before this year, interpreted by the violinist in April, to be exact; however, they had been performed differently, not with an orchestra as last evening, but rather as a violin and piano recital, accompanied by Eduard Kunz. These pieces are very accessible, though sowed with Alexandru Tomescu's very distinctive style. While no element is left to chance, his performance makes the melancholy, the exuberance and the suavity expressed by the notes, pierce through the audience one at the time.
After the intermission, Eduard Kunz went on stage and performed the famous Concerto No. 1 for Piano and Orchestra. Last night I listened to this pianist for the third time this year and it was the third time when I left the event impressed by his unrestrained spirit. His performance amplifies everything; it seemed as if each time he wass telling us a fairy tale about legendary heroes, which contains each and every form of myth - from the miraculous to the fantastic. Everything was also improved due to the Yamaha CFX grand piano, offered to the artists by the producers, exclusively for this special event. The piano was brought from Warsaw, where it was used during the prestigious 'International Fryderyk Chopin Piano Competition'.
The entire concert was a tremendous success, according to the whirlwind of applause coming from the overcrowded hall, which led, of course, to two encores.
The philologist Petruș Costea attended the event as well and we asked him to share his opinions about the concert, especially since he knew the two artists from the interviews he had taken and the chronicles he had written about their concerts for culture magazines:
'Tomescu is a more cerebral person - he does everything in a more calculated manner, more rationally, while Kunz seems to be possessed in front of the piano. He allows himself more freedom - which could bother some people - but he's always got something more to show. He has performed coherently here.'
Petra Gherasim
Translated by Zbarcea Bianca-Lidia and Elena Daniela Radu
MTTLC, The University of Bucharest