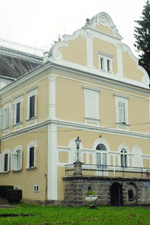 The 2013 Gala of the Young Performers, Winners of National and International Competitions - the 23rd Edition
Monday, 21 October 2013 , ora 8.07

The more modest version of the 2013 Gala of the Young Performers, Winners of
National and International Competitions
, took place at the Arcuș Cultural Centre. The financial restraints led to the narrowing down of the gala created in 1991 to only two recitals, which nevertheless maintained the interpretative music quality.
On Friday, 18th October, the violinist Răzvan Anemțoaiei was scheduled to perform; he is a second-year student at the National University of Music in Bucharest, in the class of Lecturer Luminița Burcă, PhD., a pupil of the late maestro Ștefan Gheorghiu. The young violinist was born in Deva, where he graduated from the High School of Art in Deva, in the class run by Prof. Mirela Calciu. Răzvan Anemțoaiei's undergraduate training was substantially supported by his attending the first five editions of The International Violin Master Class in Arcuș, organized in collaboration with UCIUR and The Ecaterina Stan Cultural Society. Under the guidance of the maestros Ștefan Gheorghiu and Liviu Câșleanu, Răzvan Anemțoaiei achieved great performances together with Reader Viorica Boierescu, PhD., professor at the National University of Music in Bucharest; the violinist performed works by Johann Sebastian Bach, George Enescu, Pablo de Sarasate and Henryk Wieniawski.
The second was Gheorghe Dima Music Academy in Cluj. Saturday evening, the pianist Benjamin Dioszegi, first-year student in the class of Professor Adriana Bera, PhD., performed Piano Sonata op. 27 No.1 in E flat major by Beethoven and Transcendental Étude No. 7 Eroica, by Franz Liszt. The flutist Cătălina Popa, second-year student in a Master's Degree Programme, together with Nagy Gergo, the student of professor Adriana Bera,entertained the audience with Exotic Impressions by Sigfrid Karg-Elert and Carment Fantasy by Francois Borne.
The performances at the Arcus Cultural Centre maintain their perenniality, not only by supporting young interpreters, but also by fulfilling people's need for access to quality music.
Ecaterina Stan
Translated by Zbarcea Bianca-Lidia and Elena Daniela Radu
MTTLC, The University of Bucharest