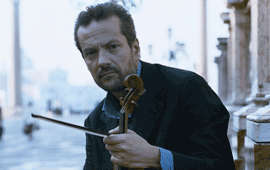 Giuliano Carmignola in Concert in King's Birthday Honours
Monday, 28 October 2013 , ora 12.21

An event celebrated every year with pomposity by the Royal House of Romania gathered a large number of people at the Romanian Athenaeum on Friday, 25
th
October, 2013: the anniversary of His Majesty, King Mihai I. On this occasion the famous violinist Giuliano Carmignola came on the stage of the institution mentioned earlier accompanied by the girl's ensemble
La Stravaganza
conducted by Christian Badea. 92 years of the King's life also mean 92 years lived by principles that can be materialized in values such as appreciating the aesthetics, solidarity, altruism, etc. These are the values that set the stage for
The Princess Margarita of Romania Foundation
that for many years has been dedicated to supporting the young talented so that they can accomplish their dreams.
Friday evening was one of balance: the public could find out who benefited from the Foundation's stipend programme in 2013 and how, thus the ground for the future 2014 beneficiaries being prepared. This is what we found out from the short film viewed after the Royal Anthem and the speech of Her Royal Highness, Princess Margarita of Romania. The concert followed after this.
The girl's ensemble La Stravaganza evokes the orchestra that was formed in 17th century Venice by the orphans sheltered by Ospedale della Pietà, whom Antonio Vivaldi trained for music. This ensemble quickly reached a high level of mastery that made them well known throughout Europe at that time. I think it is a very interesting marketing strategy to revive the ensemble's legend in 2013.
The awaited entry on stage of the violinist Giuliano Carmignola had the desired effect, arousing immediately the public's enthusiasm. I suppose it is not necessary to remind the countless achievements in the artist's career: from the studies with famous violinists such as Henryk Szeryng or Nathan Milstein and until the concerts performed under the baton of maestros such as Claudio Abbado or Giuseppe Sinopoli. Specialized in baroque music, Carmignola arouses the admiration of the public and critics alike. BBC Music Magazine asked rhetorically "Who better to disclose the poetic utterances of these pieces with their highly developed 'esprit de fantaisie' than Giuliano Carmignola?"
Indeed his style reunites both delicacy and poetry, but also a special glow that often gets the effects of fireworks.
Between the concerts for violin, there were also found three arias that successively brought on stage three young performers: the first one was Veronica Anușca, the same we heard a little earlier performing Solveig's song under the baton of Tiberiu Soare for the opening of the NRO season. As before, I was impressed by the volume of her voice as well as the sensitivity she gave to the aria Sonno, se pur sei, sonno. Mezzo-soprano Andreea Iftimescu was the next soloist followed by mezzo-soprano Emanuela Pascu impressive in the aria Agitata da due venti, a big challenge for any soloist, which she coped with very well.
Such aconcert could not end without the encores that the audience enjoyed at the end of the programme. Apparently through this charity concert, dedicated to the "Young Talents" programme, the Foundation succeeded raising 110.000 Euros which will be used to support the next generation of young talented people.
Petra Gherasim
Translated by Ioana-Alexandra Dumitrescu and Elena Daniela Radu
MTTLC, The University of Bucharest