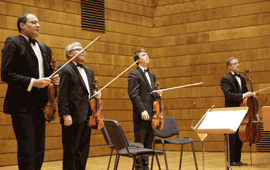 Four Men - One Feeling: the Days of Russian Culture Continued with a Chamber Recital on 29th October
Wednesday, 30 October 2013 , ora 9.23

Four men - one feeling; that is how the performance of the
Romantic Quartet
from Russia could be described, after holding a recital within The Days of Russian Culture, on the evening of 29
th
October, 2013. The large audience attending the event, which took place at the
Auditorium Hall
of the National Museum of Art of Romania, enjoyed an evening of Russian music, an evening filled with charm and affability.
The Quartetcame into being in 1996, owing to the support of the cellist Valentin Berlinsky, in his turn a member of a legendary quartet, very well-known, for certain, by the listeners of Radio Romania Music: The Borodin Quartet.
'Valentin Berlinsky was like a father for us: he's always been there, he helped us choose our repertoire and he offered us his moral support at competitions; in short, he was a true mentor for The Romantic Quartet.' said the cellist Serghei Astașonok, the founding member of the above-mentioned quartet. The ensemble changed its members several times along the years, but it continued to make progress, it did not let up. They were awarded The Grand Prize and The Special Prize at The'Dmitri Șostakovici' International Competition, two amazing honours, which ensured their success at the great halls of Europe - they performed in most of the prestigious Galas, such as Orlando in Holland and Blonnay in Switzerland and these are only two examples.
Throughout the recital, I could feel how deep the bond between the four members really was, exceeding the commonplace score reading. It seemed like the same beat led the four of them on the same musical path and through all the changes related to the dynamic and the agogic accents. Their ability to share the musical message with the audience is truly remarkable.
Therefore we listened to works by Borodin, Tchaikovsky, Rachmaninoff and Weinberg, composed for string quartet, but also transcriptions of well-known works, created specifically for this kind of ensemble: "Baba-Yagafrom the suite Pictures at an Exhibition by Modest Musorgski and Marchfrom the opera The Love for Three Oranges by Serghei Prokofiev. I must add that these transcriptions have been written exclusively for the recital in Bucharest, succeeding to embellish the already extremely elegant and refined programme, with colourful additions that represent emotional contrasts specific to the Russian Culture.
I would like to end my review by sharing the words of the cellist Serghei Astașonok, whom I asked which element of the Russian music was the most important, in order to reach the souls of the people:
'The spirit of music; Russian music represents for me pure emotion.'
By participating at the festival The Days of Russian Culture, The Ministry of Culture of Russia took the opportunity to support the Russian chamber ensembles. Due to the efforts of the management, we now hope to be able to rivet the attention of the Romanian public upon the depth of the music of our country.
Petra Gherasim
Translated by Zbarcea Bianca-Lidia and Elena Daniela Radu
MTTLC, The University of Bucharest