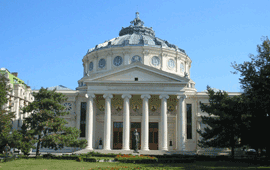 Tuesday Evening Season - 5th November, 2013
Wednesday, 6 November 2013 , ora 12.28

"I am happy to say that tonight we are opening the fifth season of the
Tuesday Evening Season
project. It fills us with joy that our audiences are constantly expanding and we are thankful for the support we have been receiving from the radio network, as it has played a big part in our success. During this season we are, once again, bringing to the stage a large number of young, but accomplished, performers, young musicians studying abroad, and also some of the younger members of our Philharmonic, who we will get to see performing tonight." This is what musicologist
Cristina Sârbu
had to say before the 5
th
November concert held at the Small Hall of the Romanian Athenaeum - a hall which has ideal acoustics for the chamber music performed by the
Virtuoso Quartet
with passion, sensibility, and a fine eye for the stylistic subtleties of romantic compositions.
'Joy of performing' seems to best describe the quartet which was formed in 2012. Its members are violinists Viorel and Monica Buștean, violist Luiza Iorga and cellist Dan Joițoiu, who are members of the following orchestras: The "George Enescu" Philharmonic, the National Radio Orchestra and the National Opera in Bucharest respectively. The Virtuoso Quartet intends to perform a varied repertoire, in order to reveal the beauty of each particular musical era to their audiences. The four musicians gave a moving performance.Violinist Monica Buștean talks to us about the emotional evening:
"We felt at home on this stage, where we performed a very difficult programme. When we decided upon it we didn't think it would be so difficult to perform, but I hope we've managed to deliver it well... It was pretty easy to select the musical pieces for tonight's performance. All four of us went through this Schubert piece and then we stumbled upon a work by Mendelssohn- The String Quartet No. 2- and to us it felt so close in style and tonality to Schubert's quartet that we thought it best to perform both of them in the same recital"
The Virtuoso Quartet is composed of four musicians with a very well defined approach to music and performing, and a homogenous sound. On the evening of 5th November 2013, they tackled a romantic repertoire, performingThe String Quartet No.2 in A minor by Felix Mendelssohn, and The String Quartet No.14 in D minor 'Death and the maiden' by Franz Schubert. The large audience rewarded the musicians' performance with long rounds of applause. Musicologist Laura Manolache, who was also in attendance, had this to say:
"The programme was very demanding, but beautifully presented by this quartet which made its concert debut with the new lineup, with Dan Joițoiu on the cello. We are eagerly waiting for their next performances... They have shown great promise with their interpretation of the Mendelssohn and Schubert string quartets."
Jeanine Costache
Translated by Șerban Dudău and Elena Daniela Radu
MTTLC, The University of Bucharest