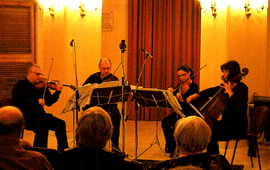 The Florilegium Quartet Playing Contemporary Music at the Auditorium of the Cantacuzino Palace
Thursday, 14 November 2013 , ora 10.23

On the evening of 13
th
November the Bucharest audience was able to enjoy a concert of contemporary music at the Auditorium of the Cantacuzino Palace. Present on the stage was the Florilegium String Quartet, who performed a set of opera music pieces composed by Nicolae Teodoreanu, Valentin Petculescu, Doina Rotaru and Aurel Stroe. The first three composers attended the recital.
The atmosphere created by the music of the violinists Marius Lăcraru and Ladislau Csendes, the violist Maria Fecioru and the cellist Anca Vartolomei, that evening was one of great magnificence. The Quartet Florilegium is famous for preferring the contemporary repertory. One of that evening's music pieces – The String Quartet no. 3 by Valentin Petculescu was also dedicated to them. The sensitivity of the four musicians is in perfect harmony with the broken beats, the unexpected changes of rhythm in the songs and the variations in musical intensity. These are the perfect guides in a sonorous universe full of meaning and ingenious metaphors.
The bounding of elements and the unity noticed in the musical pieces of the quartet are simply admirable. All these are possible due to the eighteen years of making music since the quartet was formed and, also, to the perfect compatibility between the four members. Indeed, the synchronisation between them has already reached a whole new level passing the rate indicated by the score and giving the impression that an interior pulse, common to all fours musicians, was the one conducting the flow of the music.
The variety of sounds in the works they chose would have been hard to decipher without such a convincing performance. Certainly, the audience understood the musical pieces, also, with the help of the programme, made by the composers.
It was an extremely interesting night, which we expect see again soon at the Auditorium of the Cantacuzino Palace.
Petra Gherasim
Translated by Georgiana Ecaterina Cotolan and Elena Daniela Radu
MTTLC, The University of Bucharest