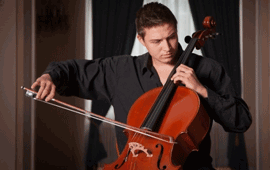 Tuesday Evening Season - 26th November, 2013
Wednesday, 27 November 2013 , ora 9.18

I have been waiting with great enthusiasm the recital of the cellist
Ștefan Cazacu
which took place at the
Small Hall of the Romanian Athenaeum on 26
th
November. During the last season, he performed in a concert that was part of the Tuesday Evening Season, and I enjoyed his presence alongside the other members of the Cazacu family in a recital entitled 'Family Music'. I would like to think that the bad weather was responsible for the empty seats in the concert room. But those who were present at the Romanian Athenaeum had no regrets because Ștefan Cazacu was, above all, a charismatic and experienced musician with brilliant technique and fine musical background. He performed for music lovers a varied and difficult repertoire consisting of three sonatas:
Sonata for cello and piano in F minor
by George Enescu,
Arpeggione Sonata by
Franz Schubert and
Sonata in D minor
by Dmitri Shostakovich.
Of great importance for the performance was the contribution of the experienced pianist Dana Bădoi, who spoke with emotion about the works:
'Each musical piece was difficult in its way. I find the Arpeggione Sonata by Franz Schubert to be the most difficult, whose performance requires a lot of experience and Enescu's sonata is quite difficult, you can find everything in it: intensity, thrill, innocence. Shostakovich's sonata is extremely difficult, but I consider it fits like a glove to Ștefan. We offered the audience a beautiful and demanding programme and I hope they enjoyed it.'
Content with his achievement and without any trace of exhaustion on his face after the performance concluded, at audience request, with Vocalise by Sergei Rachmaninoff, Ștefan Cazacu said:
'It is a very beautiful concert room, I am happy for those who came and I hope we made a good impression on them. Every work we performed stands for something: Schubert for lyricism and romanticism - it was the most difficult piece and Enescu's sonata, written very early, when he was eighteen, stands for youth and playing Shostakovich was a joy; I like this sonata very much and I think it fits me the most.'
Marin Cazacu, his father, who makes objective comments on the development of the young artist, was also moved:
'Any father is, first of all, proud when he sees his child performing on a big concert stage. I am very happy to see him growing and I see him through the eyes of another parent, not his own, and I try to be objective but, in the same time, I see him from the perspective of a teacher and, from this point of view, I take part to every project he is involved in. He is a cellist who grows every day, that becomes more interesting and expressive in his performances and, in the future, I see him as a musician who will have developed and become a notable person as I wish, as well as many others who listen to his music and see him growing.'
Ștefan Cazacu has all the characteristics of a cellist capable of carving out a successful career with outstanding performances of which I am certain we will hear soon.
Jeanine Costache
Translated by Andreea-Ionela Vreja and Elena Daniela Radu
MTTLC, The University of Bucharest