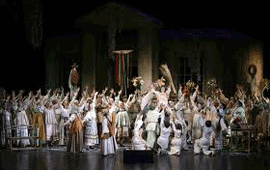 A Routine Performance
Friday, 29 November 2013 , ora 8.10

A few years ago, at the Bucharest National Opera House, Ion Caramitru put on a new staging of Tchaikovsky's
Evgheni Oneghin
. Whether it resembled the previous one from Belfast or not, it was most certainly widely appreciated by music lovers and even critics. Maria Miu's scenery sets as well as the costumes designed by Viorica Petrovici brought something of 18
th
century Russia on stage, yet did so with a modern twist. Deciding to replace the facades and columns of buildings, changing the props even during the play, all this contributed to insuring one scene flowed smoothly into the next. After rights to the play were lent to the Opera House of Sofia for a time, the end of November saw its return to the BNOH. It was staged in this musical season's peculiar manner, for two evenings in a row, employing only partially different casts each time: there was nothing new as far as the main characters were concerned and only the secondary parts saw debutant artists. Watching the first show I had the feeling that the performance on stage was adequate and rigorous, but somehow drained of energy. Perhaps it was lacking lustre on account of the artists' state of mind. They went over the score with a certain inner tediousness, though, at times, one could see the truly professional trying their best to counter this. Still, on the whole, far from Tchaikovsky's romantic resonance, the play was dragging. The orchestra most of all, its sounds being generally harmonious and pronounced, but lacking the inspiration brought by generous riffs and intense emotions. This may have been because of Iurie Florea's way of conducting, his gestures simple and precise, being content to solve the minor imbalances occurring between the soloists and to support the performance of the choir. The choir itself was impeccable once more. Having been prepared by maestro Stelian Olariu, it brought a touch of charm and liveliness to the otherwise drab performance. The ballet had its pleasing moments, the characters interacting with one another having, for the most part, respected the director's initial specifications. Then again, Tina Munteanu, the soprano, for example, who had, specifically, inspired my appreciation, both through her voice but also, more importantly, through her acting, during the preview show, this time around gave us a gleeful and spoiled Tatiana, one that had nothing to do with the shy, introvert character that Pushkin and Tchaikovsky had designed. She seemed to have been suffering from a slight cold. If that was indeed the case, we should have been made aware of it from the very onset. Even so, I doubt that her emaciated and subdued voice, with some thwarting grave notes and the mere handful of pleasant acute ones, was indeed the result of a mere cold. Her breathing difficulties on the other hand may well have been. I believe the performance of Iordache Basalic, baritone, goes to prove just this, himself having the flue and yet managing to overcome his precarious health state and present us with an austere, realistic and well defined Oneghin (unlike his performance during the preview show). His voice sounded good, with noteworthy declamation and eloquence, though his vocal range was (somewhat) diminished.
Having Tiberius Simu, the tenor from Cluj, over to play Lenski was another pleasant surprise. His elegant presence, as well as the quality of his warm, bright, well handled voice rendered the image of a young and passionate aristocratic lover, not at all 'lymphatic', as others would embody him. He distinguished himself from his very first line, his famous aria, which was superbly delivered and met with a well-earned round of applause. The same cannot be said about all the others. Liviu Indricău's debut as Triquet, a key character which he managed to portray with a good dose of humour, without crossing the line, turned out to be just as pleasing. He had the advantage of his unique voice, as well, to be sure, just like he had that of a unanimously appreciated stage talent.
While Maria Jinga decided, once more, to give us a rompish Olga, her features well delineated both vocally and through stage performance, the two mezzo-sopranos chose a mature path for their characters. Sorana Negrea was playing Larina for the first time and was a bit too 'juvenile in her demeanour and response, while Andreea Iftimescu was, again, cast for the key role of Filipievna, failing once more to relate to her character. Her 'grey-headed' gestures remained purely formal. Horia Sandu, base, was also playing his character, Gremin, for the first time. His low-pitched voice, of fine quality overall and rich, at any rate, as well as his imposing countenance both worked in his favour, allowing him to carry the role of the officer count through with quite a commanding presence, and to perform his aria in faint tones, with a noteworthy eloquence. Dan Indricău, base, iterated his transitory appearances as Zaretsky and The Captain while Sofia Negreu got across gracefully and innocently, the strength of her conveying of emotions and suggestions having a profound importance in the show's underlying economy. Her character, The Child, was all but a permanent presence on stage, especially in the critical moments, perhaps even functioning as an alter-ego for Tatiana, its impact to be very dramatic at any rate. The same can be said about her colleagues, who put on a wonderful dance during the last act.
The public, unsubstantial, reticent or merely touched by an overall inertia, failed to react to the more commonly lauded arias and duets, but it did however reward any truly fine performance, conversely penalizing various failures. This showed that the public, knowledgeable or not, did have a fairly good perception of the artists' performance, on how they managed or failed to convey meaning, or merely to sing in an agreeable fashion. In the end, however, whatever the circumstance, there is always applause. Mere common courtesy. Unfortunately, iterating Evgheni Oneghin proved to be nothing more than a routine performance, for the first evening at least. What a pity!
Anca Florea
Translated by George Mihăiță and Elena Daniela Radu
MTTLC, The University of Bucharest