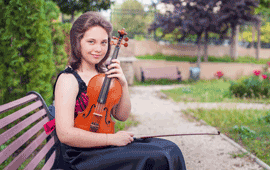 Tuesday Evening Season - 10th December, 2013
Wednesday, 11 December 2013 , ora 9.50

After a spectacular recital, due to the virtuosity of the pieces she performed, during the previous season, violinist Mălina Ciobanu has returned to the Tuesday Evening Season, again, her presence gathering a large public in the Small Hall of the Romanian Athenaeum. She proved her value again by playing with an irreproachable technique the other evening and offering four virtuoso pieces by Ravel, Enescu and Pablo de Sarasate, completed by a chamber Sonata Opus 12, no.1 in D major by Beethoven. Last evening, Mălina Ciobanu proved that she was a violinist who had grown up, adding expressivity, passion and sensitivity to her virtuosity. Excited after a successful recital, the young musician told us about her musical path:
"I started with a sonata by Beethoven, very difficult from the musical point of view, which needed a strong collaboration with the pianist, then I continued with Tzigane, by Ravel - a very difficult play in terms of virtuosity, after which I was glad to play The Fiddler by Enescu. I completed the recital with two other virtuoso pieces by Sarasate, Zapateado and Introduction and Tarantella."
In her musical endeavour, Mălina Ciobanu's partner was Verona Maier, a highly appreciated pianist, also delighted by the young violinist's talent: "I have collaborated with Mălina Ciobanu every now and then for five years now; she had just been admitted to secondary school, when we first met. I am disclosing this meeting, after the one that took place last year, when she started to approach the pretentious chamber literature and played a sonata by Mozart, and there she is now, performing a sonata by Beethoven, one of the most difficult sonatas of this composer, even if it is the first one in a series of ten works. Approaching this complicated, complex, and extremely challenging music, not only from the point of view of the violin, Mălina proves that she has grown up a lot, beyond the repertory she plays, as she has done during the second part of her recital, that of the virtuoso pieces, thus becoming a true musician".
Virtuosity, sensitivity, much expressivity, a warm and vibrant tone, and last, but not least, maturity, this is what we noticed during the recital passionately offered along with the pianist Verona Maier, the two musicians collecting well-deserved applauses.
Jeanine Costache
Translated by Aida Birghila and Elena Daniela Radu
MTTLC, the University of Bucharest